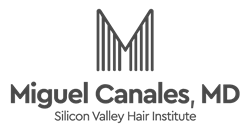 Unfortunately, even Bay Area women can still feel ashamed of thin hair and be less likely than men to reach out to a hair loss specialist for women
PALO ALTO, Calif. (PRWEB) February 25, 2020
Silicon Valley Hair Institute, a team of highly-trained professionals for hair loss solutions in the Bay Area at http://siliconvalleyhairinstitute.com/, is proud to announce a new post for women. The post focuses on the needs of women seeking a hair loss specialist who understands the special challenges of female hair transplantation.
"Unfortunately, even Bay Area women can still feel ashamed of thin hair and be less likely than men to reach out to a hair loss specialist for women," explained Dr. Miguel Canales, hair loss surgeon for SVHI. "I've been helping women with hair loss for decades. If they need someone to listen, they can count on me as a Bay Area specialist in female hair loss issues."
The post can be found at https://siliconvalleyhairinstitute.com/it-is-an-unfortunate-fact-that-men-and-women-go-bald-but-today-we-can-fix-that/. The post is one of a series focused on helping Bay Area women with thinning hair. Speaking to a female hair loss specialist might help women find answers to personal concerns. To learn more, Bay Area residents can review the women's hair loss protocol page at https://siliconvalleyhairinstitute.com/womens-hair-loss-protocol/. Female residents living around the Bay Area peninsula can review the Palo Alto information page at https://siliconvalleyhairinstitute.com/directions-from-palo-alto-hair-transplant/. Women in or near Palo Alto ready to speak up about hair loss troubles can schedule a confidential consultation at https://siliconvalleyhairinstitute.com/directions-from-palo-alto-hair-transplant/.
BAY AREA FEMALE HAIR LOSS SPECIALIST IS READY TO LISTEN TO WOMEN TALK ABOUT THINNING HAIR
Here is the background for this release. Women's equality continues to progress in the workplace and in social situations. Nonetheless, men and women can equally struggle with balding, yet women could choose to remain silent. Instead of speaking to a female hair loss specialist, Bay Area women might try to manage the problem alone. Women can be encouraged to speak out about various issues today that were once taboo. If a lady notices balding patches appearing on the scalp, the problem could seem too humiliating to address. For these reasons, Silicon Valley Hair Institute has announced a new post on hair loss issues for women in the Bay Area.
ABOUT SILICON VALLEY HAIR INSTITUTE
The Silicon Valley Hair Institute (http://siliconvalleyhairinstitute.com/), under the leadership of top-rated California hair transplant surgeon Miguel Canales MD, is one of the best facilities offering San Francisco Bay Area hair restoration. It is a professional team of San Francisco hair specialists led by Dr. Canales. Dr. Canales provides the full range of advanced hair transplant and hair restoration procedures for Bay Area residents, from San Francisco to Palo Alto to San Jose. Treatments include; robotic hair transplants, FUE/FUT surgery, and micro-pigmentation. If one needs a hair transplant specialist, look no further than this Bay Area hair transplant center. The clinic provides both San Jose FUE transplant and San Francisco FUE transplant services. Dr. Canales also performs female hair transplants for women and eyebrow restoration, thus offering the best hair transplant and robotic hair replacement options. Call today to 650-551-1100 for a no-cost consultation.