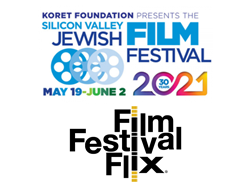 "The caliber of carefully-curated film content that SVJFF brings to the festival circuit never disappoints. And with the festival streaming virtually on the Film Festival Flix platform anyone, from anywhere can tune in and be a part of that experience."
SAN FRANCISCO (PRWEB) May 12, 2021
Last year, the Silicon Valley Jewish Film Festival made the move to a virtual format in the same way we all adapted to the COVID-19 pandemic: with trepidation. This was new. This was unknown. Would their efforts succeed? How would the patrons respond?
This year, however, SVJFF Executive Director Tzvia Shelef knew the ropes coming in. And when the festival had other options—a different platform, an in-person or hybrid festival— she chose to bring SVJFF back to the support, community, and guidance offered by Film Festival Flix.
Referring to Film Festival Flix CEO, Benjamin Oberman, Shelef said, "Benjamin and his team worked with me day and night to make this [festival] happen and it did very successfully. We had more donors and sponsors than we have ever had, raising over $400,000! Without them and Film Festival Flix this wouldn't have happened."
The 2021 festival will mark 30 years of SVJFF celebrating and showcasing "Jewish culture, traditions and humor, and sparking dialogue around entertainment, art, politics, society and global issues."
"This year's Festival will be streaming 100% of our films online. Our audience will be able to view all 30 films from the safety and comfort of their homes," says Shelef.
With the availability of Film Festival Flix online and across multiple apps and streaming services such as Roku, AppleTV, Amazon Fire TV, and AndroidTV, festivals like SVJFF can reach a wider, more diverse and global audience than ever before.
Opening night will feature two acclaimed documentaries:
AULCIE, the inspiring story of Aulcie Perry, a basketball legend who led the team Maccabi Tel Aviv to an upset win in the European Championship (interview with Aulcie Perry to follow the screening).
RUTH: JUSTICE GINSBURG IN HER OWN WORDS, the story of the late Ruth Bader Ginsburg's journey to become an Associate Justice of the Supreme Court (interview with RBG's daughter, Jane Ginsburg, to follow).
In the Centerpiece event, FROM SLAVERY TO FREEDOM, the film will portray the story of Soviet "Refuseniks" through the prism of Natan Sharansky's biography, and SVJFF will present patrons with an interview with the author.
The festival will also feature a tribute to the talented Israeli actress Shira Haas, best known for the series "Shtisel" and the film "Unorthodox." Hass stars in two films in the SVJFF schedule: ASIA and BROKEN MIRRORS.
As the festival comes to a close SVJFF will present the film HOWIE MANDEL: BUT, ENOUGH ABOUT ME, which follows the life and career of the veteran comedian, actor, and producer, known for comedic genius and his battle with OCD (interview with Howie Mandel and director Barry Avrich to follow).
Each film in the SVJFF programming lineup will be available for viewing for 72 hours, starting at the film's scheduled time, giving patrons a generous window to watch at their convenience without missing any other film in the festival. Many of the films will be presented with companion material: director's statements in the film profile, Zoom discussions with directors, writers, producers, and other film talent.
The 30th Annual Silicon Valley Jewish Film Festival is presented by the Koret Foundation.
"We are proud to partner with the prestigious Silicon Valley Jewish Film Festival for the second year running," says Amber Davis Johnson, Director of Communications at Film Festival Flix. "The caliber of carefully-curated film content that SVJFF brings to the festival circuit never disappoints. And with the festival streaming virtually on the Film Festival Flix platform anyone, from anywhere can tune in and be a part of that experience."
The Silicon Valley Jewish Film Festival opens May 19, 2021 and closes June 2. A festival preview trailer and tickets can be found at FilmFestivalFlix.com/festival/svjff.
Please attribute authorship to Film Festival Flix and/ or cite this release as a source. For immediate release.