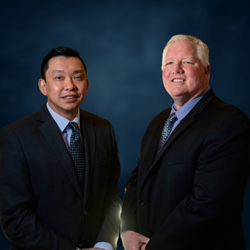 Side allows us to meet the needs of our devoted client base while benefiting from an extensive network of industry masterminds
SAN JOSE, Calif. (PRWEB) May 14, 2021
Silicon Valley Lofts & Condos and Silicon Valley Residential Realty today announced the formation of Upswing Real Estate and its partnership with Side, the only real estate technology company that exclusively partners with high-performing agents, teams, and independent brokerages to transform them into market-leading boutique brands and businesses. The association will ensure that Upswing Real Estate, a relationship-driven firm that treats each purchase or sale as its own, is powered by the industry's most advanced platform.
Co-founders Tony Sum and Eric Woodward have used their passion for real estate and vast industry knowledge to help clients since 2002. Upswing Real Estate provides five-star client service and advanced technology for buyers and sellers throughout Silicon Valley. With their entrepreneurial spirit and savvy marketing abilities, Upswing Real Estate helps clients achieve the highest price or best deal — earning a book of repeat clients along the way.
Partnering with Side will ensure Upswing Real Estate remains at the cutting edge of the evolving real estate market while allowing its agents to continue delivering premium services to their clients. Upswing Real Estate agents are fully supported by a one-of-a-kind premium brokerage platform, which provides transaction management, property marketing, lead generation, business growth opportunities, vendor management, and infrastructure solutions.
"Side allows us to meet the needs of our devoted client base while benefiting from an extensive network of industry masterminds," said Woodward. Sum added, "With Side's state-of-the-art marketing, technology, administrative, and legal support, we're able to focus on client service and earn our clients' real estate partnerships for life."
Side is led by experienced industry professionals and world-class engineers who develop technology designed to improve agent productivity and enhance the client experience. Based on its belief that homeownership is a fundamental human right, Side is on a mission to improve the public good by providing top-performing real estate agents, teams, and indie brokerages with the best system, support, service, experience, and results.
About Upswing Real Estate
Created by the founders of Silicon Valley Lofts & Condos and Silicon Valley Residential Realty, Upswing Real Estate helps a diverse clientele buy and sell real estate throughout Silicon Valley. The firm takes great pride in using its industry knowledge and advocacy to develop and maintain long-lasting relationships with clients. Upswing Real Estate is headquartered in San Jose. For more information, visit http://www.upswingrealestate.com.
About Side
Side transforms high-performing agents, teams, and independent brokerages into successful businesses and boutique brands that are 100% agent-owned. Side exclusively partners with the best agents, empowering them with proprietary technology and a premier support team so they can be more productive, grow their business, and focus on serving their clients. Side is headquartered in San Francisco. For more information, visit http://www.sideinc.com.