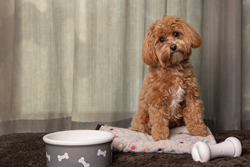 MENLO PARK, Calif. (PRWEB) August 22, 2019
Silicon Valley's newest, high-tech luxury hotel, the Park James Hotel, is offering the paw-fect getaway for dog owners to pamper their pooch with the "Paw-fect Package," available starting August 26, National Dog Day.
Featuring high-end amenities and bespoke services, the Park James Hotel's "Paw-fect Package" offers VIP (very important pet) accommodations for guests and their four-legged friends that includes a puppy spa day, in-room comforts like gourmet doggie treats, puppy turndowns with cozy doggie blanket, interactive doggie toys, a professional pup portrait, plus human treats and more. Ten percent of the package, for each booked stay, will benefit local animal charity, Peninsula Humane Society & SPCA.
Pamper your pooch with the "Paw-fect Package" at the Park James Hotel. Available starting August 26, 2019, based on a one-night stay and availability. Package includes:

Puppy spa day with Local Mobile Pet Grooming Spa
Wickedbone Smart Bone interactive toy
Gourmet healthy dog treat
Dog bandana
Cozy dog blanket
Two puppy-inspired cocktails and appetizer served in room
$25 off pet cleaning fee per night
Park James' two-legged friends can enjoy special puppy-inspired food and drink offerings curated by the hotel's Oak + Violet restaurant like craft cocktails "Seeing Rye Dog" (Jack Rye, lemon juice, agave, mint and blackberries) and "Seven Salty Spaniels" (Sugar Island Spiced Rum, lemon and lime juice, Créme de Cacao, Orgeat, Peychaud's bitters and an absinthe wash). Additional human treats include the "Crabby Puppy" Dungeness crab toast with fenner tops and a spicy aioli, and "Off the Leash" signature lollipop buffalo wings with celery seed blue cheese dipping sauce.
The Park James Hotel's "Paw-fect Package" starts at $399* a night and excludes parking, taxes, fees and gratuity. Ten percent of package proceeds are donated to Peninsula Humane Society & SPCA. To book the "Paw-fect Package" at the Park James Hotel go to: https://bit.ly/2X7YVwp
For guests looking for the perfect professional puppy photo, Park James Hotel can additionally coordinate a photoshoot with preferred local photographer, Angel Dog Photography. For more information on photo rates and services, visit: http://www.angeldogphotography.com
The package must be booked 14 days in advance and limits one dog per room with a weight limit of 50 pounds.
Park James Hotel is located at 1400 El Camino Real, Menlo Park, CA 94025.
For more information go to: https://www.parkjames.com/. Follow on Instagram @theparkjames, Facebook @parkjameshotel, and Twitter @parkjameshotel .
For information on adopting a pet or donating directly to Peninsula Humane Society & SPCA visit: http://www.phs-spca.org
About Park James Hotel
Menlo Park's popular new luxury hotel, the Park James Hotel brings California craft style and hands-on service to Silicon Valley. With 61 well-appointed guest rooms, a unique outdoor courtyard garden and cocktail bar, along with 1,200 square feet of flexible meeting space among other amenities, the Park James Hotel is suited for every type of traveler. Oak + Violet, the Park James Hotel's signature restaurant, pays homage to California's finest ingredients with a menu featuring high quality, hand-picked, and locally sourced ingredients.
About broughtonHOTELS
broughtonHOTELS has some pretty radical ideas for a hotel management company. Ideas like personally interacting with investors and owners regularly, being authentic in our daily practices and reporting, and finding creative new solutions to old problems. Personal. Authentic. Creative. You won't find that everywhere, but it's kind of our thing. For more than 15 years, broughtonHOTELS has achieved success as a full-service hotel management company for a diverse portfolio of boutique California and Chicago properties, and we're expanding all the time. The foundations of our success are built on a "from the ground up" philosophy of developing engaged, enthusiastic teams and responding to each challenge individually.
Contacts:
Mike Stommel / Kris Ferraro
Lucky Break Public Relations
Kris(at)luckybreakpr(dot)com
mike(at)luckybreakpr(dot)com