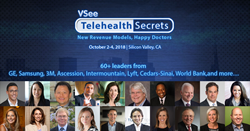 How can we use telehealth to...transform every aspect of the healthcare the way Amazon has transformed every aspect of retail?
SAN JOSE, Calif. (PRWEB) September 10, 2018
Early telehealth companies such as Teladoc, MDLIVE, American Well, Doctor On Demand brought to public consciousness the ability to see a doctor by phone or computer at any time. Yet the initial euphoria in the possibilities of telemedicine and telehealth is being tempered by the realities of what is technologically and commercially viable.
According to Gartner's Hype Cycle (a well-known graphical model representing the stages in the life cycle of emerging technologies from birth to maturity to widespread adoption and social application) telehealth appears to be past the hype and in the "trough of disillusionment." Telehealth adoption continues to be sluggish, potential cost savings have not been fully realized, and more doctors are feeling burned out and fed up with healthcare. A California study of 300,000 patients found that telehealth actually increases patient spending. Another JAMA tele-dermatology study found that the quality of care via telehealth was mixed with only 54% of visits adherent to guidelines.
Dr. Milton Chen, CEO of VSee and This American Doc says, "We started our Telehealth Secrets conference in 2016 to peel back the telemedicine hype and weed out the 'digital snake oil.' The question in 2018 is no longer whether telehealth works; but how can we take telehealth and re-envision a new world of healthcare? How can we use telehealth to cut costs and transform every aspect of healthcare the way Amazon has transformed every aspect of retail?"
The theme of this year's telehealth conference is New Revenue and Care Delivery Models, and Happy Providers. The conference explores the expanding telehealth market space with new applications and new models of telehealth such as precision health, regenerative medicine, concierge services, children's health, and medical spas. It also covers topics on the business of telehealth and physician entrepreneurship, including telehealth investment predictions by 3M Ventures, Plug and Play Tech Center and the California Health Care Fund.
The VSee Telehealth Secrets conference will be held in California's Silicon Valley, October 2-4, 2018. This C-suite educational event brings together nationally recognized health systems, healthcare innovators, thinkers, and many of the largest tech companies — GE, Samsung, Intel, Logitech, Ascension, DaVita, Intermountain, Cambia, Lyft, BetterHelp, Talkspace — to explore ways to reimagine healthcare and fix a distraught health system. vsee.com/conference
Confirmed speakers include:
Elias Aboujaoude, MD - Stanford University, Prof. of Psychiatry
Asif Ali, MD - Houston Cardiology Consultants, Partner / Fruit Street Chief Medical Advisor
Neda Amidi - Plug and Play Ventures, Partner
Jen Amis - Encounter Telehealth, President & CEO
Kyra Bobinet, MD - engagedIN, CEO & Founder
Christine Certain,EdS, LMHC, Children's Home Society of Florida (CHSFL), Director of Clinical Operations and Innovations
Milton Chen, PhD - VSee & This American Doc, Cofounder & CEO
Ted Driscoll, PhD - DigitalDx Ventures, Managing Partner
Laura Compton, JD - Nelson Hardiman, Attorney
Steven Cramer, MD - University of California, Irvine, Clinical Director
Brian Davey MD - WorldBank, Director of Health
Charles Dunham, JD - Epstein, Becker, & Green, Attorney
Alain Gazaui - SpaKinect, Evangelist
Lynn Hamilton - Talkspace, Chief Commercial Officer
Kristi Henderson, DNP - Ascension, VP of Patient Access and Care Delivery Transformation
Morgan J. Tilleman - Foley & Lardner, Attorney
Sunidh Jani - 3M Ventures, Manager
Isaac Jones, DC - Elevays, Founder
Edward Kersh MD - UCSF, Clinical Professor Emeritus
Sean Knierim - SidePorch, Partner & Cofounder (Logitech Human Peak Performance)
Andrew Le - Buoy Health, CEO
Thomas Lee, MD - Children's Hospital of Los Angeles, Director, Vision Center
Peter Lee, MD - GE Global Medical Director
Hanson Lenyoun, MD - Samsung, Director, Business and Clinical Outcomes
Kimberly Lopez - Vituity, Director, Psychiatry & Neurology
Bill Malloy - Intelomed, CEO
James Marciano - Tuck Advisors, CEO & Founder
Sigi Marmorstein - DaVita, Director of Patient Engagement & Telehealth
Alon Matas - BetterHelp, Founder
Joseph McMenamin, JD - McMenamin Law Offices, Principal
Kelsey Mellard - Sitka, Cofounder and CEO
Louise Miller - Mammography Educators, Education Director
Chris O'Brien, PharmD - TherapyWorks.tv, Founder
Carey Officer - Nemours, Operational Vice President CareConnect
Anisha Patel-Dunn, OD - Pacific Coast Psychiatric Associates, Cofounder & CEO
Dennis Patterson, MD - MedVector, CEO
Mike Phillips, MD - Intermountain, Chief Clinical & Outreach Services
Casey Pierce, PhD - University of Michigan, Assistant Professor, School of Health Informatics
Richard Popiel, MD - Cambia Health Solutions, Chief Medical Officer
Alberto Porciani - Castle Connolly Top Doctors, President
Riya Pulicharam, MD - DaVita Medical, National Medical Director Population Health Management & Clinical Outcome
Bill Rogers - Orbita, Cofounder & CEO
Kelly Sanders, PT - Telemovement, President
Tim Shi, MD, PhD - Global MD, Executive Director
Constance Sjoquist - HLTH, Chief Transformation Officer
William P. Stanford, MD, PhD - Genomicity, Cofounder & physician
Tony Strickland, PhD - Nexus & Sports Concussion Institute, CEO
Ben Tan - Intel Product Management at Internet of Things - Smart Homes
David Thompson, MD - Health Navigators, CEO & CMO
Daniel Trigub - Lyft, Regional VP for Healthcare
Hong Truong - California Health Care Foundation
Glen Tullman - Livongo, CEO
Ingrid Vasiliu-Feltes MD, MBA - MedNax, VP of Patient Safety & Quality
Peter Yellowlees, MD - UC Davis, Professor of Psychiatry; American Telemedicine Association immediate past president
Robert Zhang, PhD - Cloudminds, Cofounder & CEO
Michael Zhuang - MZcap, Founder and Principal
Seating is limited for the 2018 Telehealth Secrets Conference, and registration will be sold on a first-come, first-serve basis. To register, visit http://vsee.com/conference
VSee is the telehealth system for NASA Space Station, Trinity, Ascension, MDLIVE and 1200+ customers and the parent company of This American Doc medical group, an airbnb-like physician staffing marketplace. Created by a team of Stanford PhD students, VSee and This American Doc are committed to helping patients and providers connect online simply - from fast workflows, secure health communications, and medical device integration to physician staffing services. VSee is a complete solution for any telehealth program. VSee.com