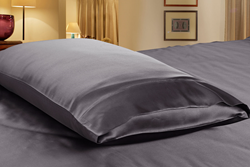 Sleeping on silk pillowcases may prevent wrinkles, problems of hair loss and split ends
San Diego, CA (PRWEB) November 21, 2013
As a leading manufacturer and retailer of silk bedding, Lilysilk.com is a good place to buy high-end silk pillowcases which are beneficial for skin and hair. A report conducted by Lilysilk has shown that more than half of people would like to buy high-quality silk products at competitive prices on the net.
As it is well-known that natural silk is good for health, more and more people like to buy natural silk products to spoil themselves. As a distinguished store of silk bedding, Lilysilk spends lots of time exploring the current market, and has recently launched a big promotion, 20% off, on its hypoallergenic silk pillowcases. All these pillowcases are handcrafted from 100% pure silk, which feature top quality, delicate designs, refined tailoring, and gorgeous looks. Besides, silk contains 18 kinds of amino acids which are beneficial for skin and hair.
"We are proud to offer the 100% natural silk pillowcases with big savings. Give these pillowcases as the perfect gifts to your loved ones this holiday season. They will be happy to receive your wonderful gifts. As we all know that sleeping on silk pillowcases may prevent wrinkles, problems of hair loss and split ends, customers could save 40% off on silk pillows if they buy our charmeuse silk pillowcases ," says Mike Lee, CEO of Lilysilk.
It is reported that a growing number of people choose to send silk products to their beloved families and friends. The fact shows that they are very glad to open the gift boxes when they see their desirable products.
About Lilysilk
For over 5 years, LilySilk has been an industry leader offering silk sheets, comforters and pillows, blankets, and so on. Lilysilk aims to help customers live better with its stylish and high-quality products. Good customer service, high-quality, fast delivery, and competitive prices, are the reasons to choose Lilysilk.com.
More information about Lilysilk can be accesses at: http://www.lilysilk.com/.