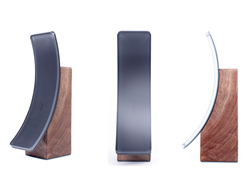 "We're looking forward to ushering in a new era of responsive devices," said Andreas Gal, Silk Labs CEO.
San Mateo, CA. (PRWEB) February 16, 2016
Silk Labs today announced Sense, a responsive and intelligent assistant for the modern household that is powered by Silk, a new intelligent device platform by Silk Labs. Sense is the first product that aims to revolutionize the connected home with powerful device-level processing in order to enhance the connected home IoT experience while keeping consumer data private.
Sense features machine learning, advanced computer vision, and sound processing to enable new and connected experiences. Sense is built to protect a homeowner's privacy from the very start. Using Bluetooth LE, Sense employs a secure one touch, hardware encrypted secure setup via a smartphone. This layer of encryption eliminates the risk of a password being remotely compromised, as only a device that was set up within inches of Sense is able to access any information remotely.
Utilizing facial recognition and machine learning on the device, Sense is able to not only recognize important family members and others within the home, but also to eliminate virtually all unnecessary notifications. Sense is designed to recognize changes and patterns, get simple feedback from the user, and learn which notifications and people are important.
Sense is designed specifically to integrate seamlessly into a home, and is a design piece meant to blend in with the decor of your home, rather than a standout piece of technology. Sense is now available for preorder on Kickstarter where backers can preorder a Sense for $249. Sense is expected to ship in the 4th quarter of 2016.
"We're looking forward to ushering in a new era of responsive devices," said Andreas Gal, Silk Labs CEO. "With Sense and our Silk platform, and forthcoming products and partnerships, we will have limitless potential to make the devices around us more useful in our everyday lives."
Silk Labs will make a full SDK available so developers may join in their mission to create an additional layer of responsive and predictive experiences that is missing from connected devices today.
The Silk platform features:
Augmented Intelligence Silk goes beyond raw sensor data aggregation and uses deep learning to allow for predictive analysis.
Machine Learning Silk adapts to consumers based on predictive analytics, given historical trends.
Responsive IoT Silk responds dynamically to a user's engagement, attention and context.
Advanced Computer Vision Silk employs facial, gesture and motion recognition.
Local Application Processing Silk enabled products keep data processing and user data as close to the user as possible allowing each device to act independently.
Natural Language Processing Silk understands your voice and sounds.
Silk Labs received an initial 2.5M round of seed funding, led by Harrison Metal, and additional funding from 500 Startups, Qihoo/Lab 360, Sparkland Capital, Ming Li, Timothy Lee, and Joshua Schachter. Silk Labs' advisors include Brendan Eich, Mozilla co-founder, and Bob Ishida, former Deputy CEO of Sony Mobile.
About Silk Labs
Andreas Gal, former CTO of Mozilla, founded Silk Labs in June of 2015 with Chris Jones and Michael Vines in order to focus on creating thoughtful experiences with connected devices by enabling them to understand, respond to, and adapt to our daily human needs. The company's first device, Sense, is a camera-based home product running Silk Labs' own intelligent device platform, Silk. Sense learns your lifestyle patterns and responds to events that occur in your home while keeping your important information private via hardware encryption.