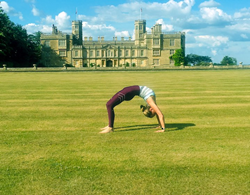 Retreat settings as inspirational as the messages of health, strength, happiness, and peace that are inherent in the Loving Kindness mantra.
LONDON (PRWEB) September 17, 2020
After a tumultuous 2020 that's left many people feeling exhausted both mentally and physically, Silver Linings Retreats is illuminating the way to wellness in 2021 with a message of Loving Kindness.
The lauded wellness program created by Chrissy Sundt focuses on whole-body restoration and rejuvenation and will now add even greater emphasis on meditation and mindfulness. With a focus on the universal language of love, it's especially fitting that a range of fantastic global setting heralds the new season of Silver Linings Retreats, with unique holistic programs in an array of spectacular international settings.
The wellness journeys will be held in three magical locations in Spain, England, and the Bahamas, with settings as inspirational as the messages of health, strength, happiness, and peace that are inherent in the Loving Kindness mantra. This guiding sentiment of the new retreats is intended to help promote good wishes and a sense of benevolence for oneself and others:
-May I be well, healthy and strong
-May I be happy
-May I abide in peace
Destinations:
Cugo Gran, Menorca, Spain: A majestic private villa on a secluded island is the setting of Cugo Gran, a blissful sanctuary set in lavender fields with sweeping views to the vitrine waters of the Mediterranean Sea. In addition to the Silver Linings' immersive programs of meditation, movement, and specially crafted meals, there's ample time for rest and relaxation in the warmth of the Spanish sun. Retreat dates are May 17 to 21. The 4-day retreat starts at $2,865 (room extra).
Kamalame Cay, Andros, Bahamas: The setting for Silver Linings' previous heavenly getaways is a serene piece of paradise in the Bahamas, an award-winning private island where you can find inner calm and restore physical and mental balance while enjoying the sugar-white sand and turquoise waters. Retreat dates Feb 26 to March 12, with 3, 5, and 7-day retreats starting from $3,699 (room extra).
The Falcon, Castle Ashby, England: A country hotel set in the heart of the 10,500-acre Castle Ashby estate in rural Northamptonshire. The Falcon, which has been lovingly transformed and completely re-imagined by Lord and Lady Northampton, offers a magical haven for those in need of calm, rest and renewal. Retreat dates Jan 29 to 31, 3-day weekend retreat starting from $1,140 (room extra).
Note: Retreat participants can be assured that all Health & Safety protocols will be followed according to each country's most stringent requirements.
About the Retreats:
Silver Linings Retreat highlights include movement programs lead by experts in their fields, including Pilates, Yoga, Barre, HIIT, Cardio, stretch, and meditation; gourmet meals overseen by a nutritionist utilizing local organics designed to restore and recharge the whole body; rejuvenating massage therapy; and a spectacular setting chosen to foster peace and serenity.
London-based Silver Linings Retreats are developed by founder Chrissy Sundt, who specializes in a holistic approach to total mind and body health with personalized programs that are custom tailored to participants' needs. With a maximum of 10 students per retreat, Chrissy is able to personally help students to focus on achieving their wellness goals, communicating with them before and after the retreat and creating special itineraries to help them achieve their health aspirations.
A classically trained ballet dancer, Chrissy studied at the Royal Ballet School and danced with both the Royal Ballet and Birmingham Royal Ballet. An ankle injury led her to discover the extraordinary rehabilitative effects of Pilates. Today she combines her experiences as a Pilates, Yoga and Barre instructor and deep passion for movement and holistic forms of exercise to craft customized wellness programs and develop Silver Linings Technique which combines the Five S's of movement---Strength, Stamina, Stability, Stretch and Soul---for a total body fitness regime.
Retreat participants will also be able to take classes with movement expert Vanessa Michielon. Vanessa is a Yoga, Pilates and Barre teacher and dance artist and researcher trained in Vinyasa and Hatha who specializes in fostering a deeper mind and body connection.
Specially curated whole foods retreat menus and meals are designed by Silver Linings' nutritionist Clarissa Lenherr. Retreat participants enjoy three gorgeously plated, healthy and enticing meals a day including highlights such as spicy Thai coconut soup with poached chicken served in a green coconut; freshly caught, pan-seared Mahi-Mahi with a citrus, arugula, and shaved asparagus salad; and a creamy cacao and avocado mousse for dessert. Silver Linings' retreats also feature flavorful, refreshing and nutrient-rich fresh-pressed juices from The Radiance Juice Co.
The former editor-in-chief of Marie Claire UK, Catherine Turner refocused her inner eye to center on meditation and yoga as the path to mental, physical, and emotional well-being. She has lived in a remote Himalayan ashram, studied Reiki, completed over 500 hours of yoga teacher training, and found deep stillness in silent retreats. She'll guide classes through meditation at selected retreats.
Raquel Scheid is a body therapist and wellness expert providing massage therapies at select retreats. With more than two decades of experience she is able to offer a wide range of modalities to work with individual guests' needs, including Swedish and deep tissue massage, Reiki, reflexology, shiatsu, and mindfulness and guided meditations.
Tallulah Rendall, Qi Gong teacher and sound meditation therapist, has been studying sound and its healing qualities for over 20 years. Ten years ago, she began her exploration into Qi Gong and Chinese Medicine. She now weaves these two traditions together to offer a space of powerful transformation.
Silver Linings Retreats include the following wellness elements: Specially prepared meals and juices, group movement classes, massage therapies, and pre-and post-retreat support. All participants also receive a special welcome gift.
To book a Silver Linings retreat, transfers, and accommodations, contact: bookings@silverliningswellbeing.com
*Note: additional fees apply for some activities.
Link to Images
Link to Expert Profiles
About Silver Linings Retreats:
Silver Linings Retreats (SLR) was founded by Christine (Chrissy) Sundt, a former dancer with the British Royal Ballet. Blending her expertise in barre and ballet with Pilates, yoga, and H.I.I.T., (high intensity interval training), Sundt's multi-faceted, results-oriented regimens, which incorporate instruction from some of the world's most highly-regarded experts in nutrition, mediation, sleep and other movement and holistic healing practices, are tailored to each guest in personalized wellness programs at stunning resorts around the globe. In 2020, Silver Linings Retreats introduced SLR@Home, an online version of the popular retreats. SLR has been featured in The Financial Times, W, Food & Wine and Vogue.
For media inquiries, please contact:
Jessica Bradford
2BPR Inc.
Email: jessica@2bprinc.com
Tel: (626) 379-2381