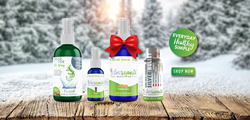 Silverganic's expanded lineup has been designed specifically to help fight illnesses and infections.
BOYNTON BEACH, Fla. (PRWEB) January 10, 2020
Silverganic, a company that specializes in producing high-quality nanosilver products, is expanding its product lineup to help people combat bacteria of all kinds this winter. Getting exposed to various strains of bacteria is almost unavoidable. This is where Silverganic's unique range of products comes in.
Silverganic's product expansion comes at the perfect time as many experts believe the 2019-2020 cold season could be especially severe. Nanosilver products may be able to fight bacteria, and Silverganic's expanded product lineup has the abilities to ward off illnesses caused by other common threats. The company has launched nanosilver-based chapsticks, soaps, and other products designed specifically to reduce the risk of contracting illnesses. Browse through the newly expanded product line at https://silverganic.com.
Silverganic's products may be able to combat:

Eye, Ear, & Throat- Eye, ear, and throat infections are usually caused by bacteria. Silver has been regarded for its antibacterial properties since the dawn of time, and is believed to puncture bacteria and interfere with biological processes. Silverganic's Head to Toe Aloe Spray is an essential product to combat illnesses in these particular areas.
Flu- Flu is a dangerous but common viral infection. Research (https://www.ncbi.nlm.nih.gov/pmc/articles/PMC3826769/) has found that silver nanoparticles have antiviral properties and may block interactions between the virus and cell, potentially healing this illness. Taking any of the immunity shots Silverganic has to offer is a surefire way to prevent the flu.
Bronchitis- Acute bronchitis is usually caused by viruses, but may also be caused by bacteria. Nanosilver products such as supplements and sprays help clear out the lungs and can fight off pathogens.
MDRB- Multi-drug Resistant Bacteria has emerged as one of the biggest threats in hospitals across the world. Researchers believe that nanosilver particles may be useful in waging war against this deadly disease (https://www.ncbi.nlm.nih.gov/pmc/articles/PMC6163489/).
Silverganic's expanded lineup has been designed specifically to help fight illnesses and infections. Due to its strong properties, nanosilver is also believed to be an excellent cleaning product, perfect for wiping down counters, cleaning dishes, and more.
The Silverganic Story
Nanosilver was founded by Joe Francis and Dr. George McDermott. Francis, a former NASA engineer, has designed a machine that is capable of producing high volumes of consistent nanosilver, while Dr. McDermott has used his vast medical experience to design Silverganic's health products. The combination of their expertise has given way to the unique range of user friendly, affordable and high-quality nanosilver products Silverganic has to offer.