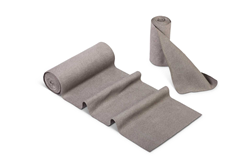 Receiving the FDA Breakthrough Device Designation will expedite our efforts to bring Silverlon to patients with radiation dermatitis and cutaneous radiation injury.
GENEVA, Ill. (PRWEB) November 30, 2021
Argentum Medical, a medical device leader and pioneer of silver- plated nylon technology, today announced the U.S. Food and Drug Administration (FDA) granted the company a Breakthrough Device designation for its Silverlon® Wound Contact, Burn Contact Dressings.
Silverlon dressings are critical in helping to prevent infection in wound or burn victims. Silverlon antimicrobial silver-plated dressings have 50 to 100 times more metallic silver ions than other silver- impregnated dressings.
The FDA's Breakthrough Device Program creates a pathway for patients and health care providers to have more timely access to innovative medical devices by expediting their development, assessment, and review while preserving the statutory standards for premarket approval.
"This important FDA Breakthrough Designation has been 20 years in the making and is the ultimate validation for Silverlon," said Raul Brizuela, president and CEO of Argentum Medical. "Receiving this designation will expedite our efforts to bring Silverlon to patients with radiation dermatitis and cutaneous radiation injury."
The indications for use of Silverlon® Wound Contact, Burn Contact Dressings granted designation by the FDA are for application up to 7 days for radiation dermatitis and cutaneous radiation injury through dry desquamation or not requiring skin grafting.
"The FDA Breakthrough Devices program was created to help bring effective treatment of life- threatening or irreversibly debilitating conditions to market sooner – and Silverlon is a perfect candidate for this program due to its clinical importance and impact," adds Brizuela.
Key to determining Silverlon's efficacy on radiological injuries after emergency was a $10.1M development contract awarded to Argentum Medical by the Biomedical Advanced Research and Development Authority (BARDA), part of the HHS Office of the Assistant Secretary for Preparedness and Response (ASPR). The contract with BARDA advanced development of radiation exposure wound technology and allowed researchers to explore how Silverlon can treat low-grade and acute skin radiation injuries.
In fact, BARDA has already purchased Silverlon, so it's available through the Strategic National Stockpile.
Brizuela points out that Silverlon technology is more effective than its competitors because of its ability to stretch and adhere across a bodily area, resulting in more exposure to and longer duration on a wounded area. This was an attribute that became advantageous in the wars in Iraq and Afghanistan when personnel couldn't restock medical equipment quickly enough. Rather than relying on wound dressings that needed to be changed every few hours, Silverlon could be used for much longer stretches of time, reducing the need for rapid resupply.
In addition, the RAND Corporation — a nonprofit, nonpartisan research organization — found in its 2020 RAND Report that silver-nylon dressing is a useful strategy to help prevent infection and provide prolonged care of burn injuries — a leading cause of military battlefield fatalities. The report, "The Effect of Blast-Related Burn Injuries from Prolonged Field Care to Rehabilitation and Resilience," (available for download here) was sponsored by the U.S. Army Medical Research and Development Command and the Department of Defense Blast Injury Research Coordinating Office. The report highlights evidence about the antimicrobial properties of silver nylon dressings as critical to infection prevention after burn or blast injuries.
RAND researchers conducted an independent, comprehensive literature review and synthesis of the evidence surrounding blast-related burn injuries. Findings and recommendations presented in the report are intended to raise awareness about the current state of the science in treating burn injuries. According to the report, burns are one of the most difficult types of injury to treat:

Infection control and prevention are critical to burn care, especially because research shows that pathogens to which service members are exposed in current combat operations are increasingly resistant to antibiotics.
Research shows that appropriate bandaging to avoid infection is critical; silver-nylon dressing has been found to be uniquely portable and easy to use and has key antimicrobial properties.
The report also includes a 2018 study that found "compared with topical antimicrobial agents, silver-nylon dressing had lower infection rates …"
Newer silver-plated dressings are ideal for prolonged field care. They can be left in place for seven days without being changed and can be rewetted to be used again.
The 2020 RAND report's summary recommendations – based on results of the literature review and synthesis of the evidence – point to silver nylon dressing as a potential standard of care.
Multiple, peer-reviewed, published clinical studies also have shown the significant benefits of Silverlon in a wide variety of surgical, wound and burn-care settings. These studies suggest Silverlon dressings can be an important element in wound care and that control of wound bacteria within the dressing may help reduce the risk of infection.
Silverlon is recognized by the Federal Drug Administration for use on first- and second-degree burns, partial and full thickness wounds and most recently, sulfur-mustard burns.
ABOUT SILVERLON
SILVERLON® wound dressings have a permanently plated metallic surface, which provides the antimicrobial benefits of silver in the dressing without staining the skin and without increasing bioburden. SILVERLON® was originally developed for the U.S. military, where it is still extensively used for management of burn and blast injuries. SILVERLON® dressings are used today by surgeons and other healthcare professionals around the world on surgical wounds, in negative pressure wound therapy, on chronic wounds, burns, skin grafts, and IV and catheter-related wounds. For more, visit Silverlon.com
ABOUT ARGENTUM MEDICAL
Argentum Medical pioneered the use of silver-plated nylon. Specializing in the development of innovative products made from silver-plated nylon, the companies continue to explore new applications and markets for SILVERLON® technology in keeping with their corporate mission to improve clinical outcomes.
###