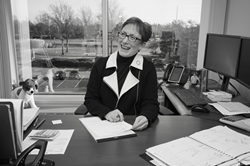 "Patricia's expertise as a CPA & Attorney is a powerful combination. We're very excited to welcome her into the firm." Anthony Acampora
Jericho, New York (PRWEB) January 23, 2017
SilvermanAcampora LLP continues its expansion with its Trusts & Estates Group, bringing Patricia M Colgan on board as Partner and Chair of the Group. This expansion is a natural evolution of the both the firm and Practice group offering significant synergies across their Business Law, Bankruptcy and corporate restructuring groups. Patricia, who is both an attorney and a Certified Public Accountant (CPA) joined SilvermanAcampora on December 1st, 2016.
"We're very excited to welcome Pat to our team. She's an exceptional attorney and her 25 years experience in Trust & Estates greatly enhances our already solid team in this area. Her approach is the perfect balance of legal finesse and compassion. It's our job to get the work done, but we strive to make that journey as painless as possible for our clients," commented Anthony Acampora, Partner-in-Charge SilvermanAcampora LLP. "Our diverse practice groups span a huge range of legal disciplines, but our approach is consistent; honest and compassionate."
Pat's expertise as a CPA and an attorney is a powerful combination that enables Pat to not only work through the many technical legal issues of trust and estate planning, but navigate the many financial and tax related issues.
"We have significant financial expertise in our Firm, with a long-established reputation in Bankruptcy and Corporate Restructuring, as well as Corporate law. There is very real overlap in terms of expertise across our groups – particularly when considering succession planning as part of an individual's long term fiscal plan for their estate. We take a holistic approach to problem solving and consequently we develop strategies that very few firms can deliver," said Anthony Acampora.
Pat's diverse background enables her to assist clients in all aspects of estate planning and administration, including: Wills, asset titling, probate, Estate/Fiduciary/Personal tax issues, lifetime transfers, and gifting.
"On September 8th, 2016 Estate Taxation celebrated its 100th birthday. It always has been, and probably always will be a controversial subject, but it's here to stay. The reality is that ensuring you have a sustainable (regularly updated) plan in place is essential. Without it the value of your estate could be decimated after your death or incapacitation leaving your heirs with both a financial and bureaucratic nightmare," commented Patricia Colgan, Partner SilvermanAcampora LLP.
Patricia draws on her prior work experience starting with her career at Coopers & Lybrand. She left as a Supervisor to attend St. John's University Law School, which led her to a position as Senior Associate at Macri, Greenspan & Moramarco. In addition to her current work at Silverman Acampora, Pat serves as a Trustee for the Frank J. Antun Foundation, gives lectures on a variety of topics in estate planning, and finds time to volunteer at her local church and Our Lady of Mercy Academy, where she is an alumna.
SilvermanAcampora LLP is a full-service law firm, based in Jericho, NY (Long Island) serving the entire tristate (New York, Connecticut, New Jersey) region. Founded in 1999 by Kenneth Silverman and Anthony Acampora the firm quickly established itself as one of the premier law firms in New York state. Practice groups include; Corporate, Litigation, Employment & Labor, Real Estate, Government & Compliance, Corporate Restructuring & Bankruptcy.