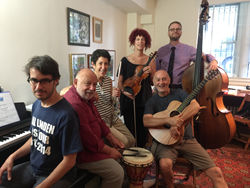 Set in an iconic Greenwich Village club Rabbi Steve brought together dozens of live attendees to two sold out services and hundreds of others globally online.
NEW YORK (PRWEB) October 02, 2018
The Jewish High Holidays, the holiest time of the Jewish Year, begin with Rosh Hashana (New Year) and conclude with Yom Kippur (Day of Repentance). Rabbi Steven Blane and Sim Shalom online synagogue celebrated awesome jazz inspired services in this year 5779 with participants live in New York at two (2) sold out services. Set in an iconic Greenwich Village club Rabbi Steven brought together dozens of live attendees and hundreds of others globally online to streamed services.
Sim Shalom, the online synagogue, was created to broadcast directly to its congregants - streaming services to them and developed uniquely for them. It is a virtual shul - no brick and mortar - but still home to a committed group who attend services online each weeknight and Fridays with Rabbi Blane.
Joining Rabbi Steven at the High Holidays was a jazz quintet including local New York musicians Jack Glotman on Piano, Carol Sudhalter on Sax and Flute, Liz Taub on Fiddle, Kevin Hailey on Bass and Frank Levitano on Drums. They inspired and elevated the crowd with the joyful and moving tunes - traditional melodies arranged in a jazz style. The Bitter End in Manhattan's Greenwich Village hosted the uplifting services.
Guest, Pastor Robert Bashear, gave a lovely sermon on Yom Kippur about "Forgiveness" and Evan Kremin, Singer Songwriter, who works at the Bitter End blew shofar smoothly and long.
Sim Shalom and Rabbi Blane adhere to the tenets of Jewish Universalism welcoming all who wish to worship. Join us online and find other Jewish Universalists at the Union of Jewish Universalist Communities at http://www.ujuc.org.
About Sim Shalom
Sim Shalom is an interactive online Jewish Universalist synagogue which is liberal in thought and traditional in liturgy. Created in 2009 by Rabbi Steven Blane on Manhattan's Upper West Side, Sim Shalom offers a means of connecting the unconnected. Rabbi Blane leads accessible and short Shabbat services every Friday night using a virtual interface and additionally Sim Shalom provides online education programs, Jazz concerts, conversion and life-cycle ceremonies along with weeknight services at 7:00PM EST led by Rabbis of this online community.
Rabbi Blane is also the Founder and Dean of the Jewish Spiritual Leader's Institute,
http://www.jsli.net, the online professional rabbinical program.
Sim Shalom, a non profit 501 © (3) tax-exempt organization, nurtures a Jewish connection through its mission of innovative services, creative education and dynamic outreach to the global community. For more information visit http://www.simshalom.com or call 201-338-0165.