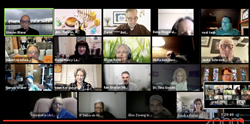 Rabbi Deborah McKenzie of Maryland called gratitude "a renewable energy source."
NEW YORK (PRWEB) November 30, 2021
Rabbi Steve Blane and Sim Shalom online, the pioneer of streaming of Jewish worship services, offered a rich service overflowing with thanks and gratitude in honor of Thanksgiving. Joining him online on Friday, November 26th were four JSLI ordained Rabbis and a Presbyterian minister friend of Blane.
Rabbi Dan Betzel of Ohio spoke about the connection of Thanksgiving and Chanukah which began on Sunday, November 28th. The message of Rabbi Misha Ben David of Texas, was that "If you can't be grateful be gracious." Rabbi Nancy Landsman of Illinois read a poem entitled "Be Thankful." Rabbi Deborah McKenzie of Maryland called gratitude a renewable energy source. Rabbi McKenzie offers the evening service each Monday for Sim Shalom.
Pastor Robert Brashear suggested that gratitude is a daily practice and sang an old hymn from 1864 titled "For the Beauty of the Earth."
Rabbi Steve and Sim Shalom offer Shabbat services each Friday night. He celebrates other Festivals and High Holidays with his online community throughout the year. His service in honor of Chanukah is Friday, December 3rd.
To view the Thanksgiving service visit the Sim Shalom You Tube channel. The link to the service is here.
ABOUT JSLI AND SIM SHALOM
Sim Shalom is an interactive online Jewish Universalist synagogue which is liberal in thought and traditional in liturgy. Created in 2009 by Rabbi Steven Blane on Manhattan's Upper West Side, Sim Shalom offers a means of connecting the unconnected. Rabbi Blane leads accessible and short Shabbat services every Friday night using a virtual interface and additionally Sim Shalom provides online education programs, Jazz concerts, conversion and life-cycle ceremonies along with weeknight services at 7:00PM EST led by Rabbis and students of this online community.
Rabbi Blane is also the founder and director of the Jewish Spiritual Leaders' Institute, http://www.jsli.net, the online professional rabbinical program and of the Union of Jewish Universalist Communities, http://www.ujuc.org.
Sim Shalom, a non profit 501 © (3) tax-exempt organization, nurtures a Jewish connection through its mission of innovative services, creative education and dynamic outreach to the global community. For more information visit http://www.simshalom.com or call 201-338-0165.