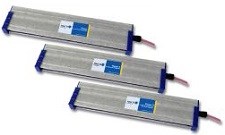 Hatfield, PA (PRWEB) December 13, 2013
Simco-Ion introduces their updated Pinner Charging Bar Series which is built for a variety of industrial applications. As part of the innovative Chargemaster System, the Pinner Series' upgrades include ruggedized construction, improved electrical insulation, new versatile mounting options and new high output bar models. The Pinner Bar's emitter points are current limited to ensure operator safety and reduce EMI emissions for machine safety. Engineered with quality construction and enhanced performance, the Pinner Series will help you achieve your electrostatic pinning requirements to temporarily pin or bond materials together. Such applications include IML, lamination, card tacking or edge pinning.
The Pinner Series is available in three different bar models, which include the new Pinner-T Bar for high output pinning performance. The Pinner-T features tungsten emitter points for extended bar life without the need for heavy maintenance. All Pinner Bars are compatible with Simco-Ion's Chargemaster Series of high voltage charging generators.
With over 45 bar lengths available, the Pinner Series is built to provide dependable electrostatic pinning with outstanding performance for a variety of applications.
Simco-Ion
(215) 822-6401
customerservice(at)simco-ion(dot)com
http://www.simco-ion.com
For the editor:
Simco-Ion is the worldwide leader in static control technology, offering custom solutions for a wide range of industrial applications. With a focus on continuous improvement, Simco-Ion is dedicated to developing advanced products designed to improve productivity through enhanced system performance and operation. Worldwide sales support provides unsurpassed customer service and application analysis that continues to drive product excellence. Simco-Ion is part of Illinois Tool Works Company, a diversified manufacturer of highly engineered components, industrial systems and consumables with annual revenues of $14.4 billion. The Company consists of approximately 800 business units in 57 countries and employs some 59,000 people.