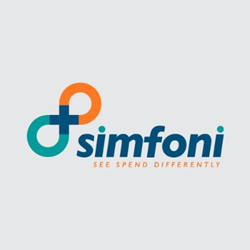 "Simfoni's Spend Automation platform provides a value-driven alternative for overburdened and understaffed procurement and finance teams," said David Bush, CEO, Simfoni Spend Automation.
SAN FRANCISCO (PRWEB) November 18, 2021
Simfoni, the next generation digital solutions provider for procurement intelligence and spend automation, today announced that it has been selected by ProcureTech100 as one of the top 100 pioneers in digital procurement solutions, and will appear in the ProcureTech Digital Yearbook 2021.
Simfoni Spend Automation is the world's most accessible spend management platform, simplifying the way businesses source and buy materials and supplies. Fusing state-of-the-art technology with content and deep expertise, Simfoni helps procurement and finance teams recognize significant savings through digital transformation, while simultaneously working toward sustainability goals. The platform is particularly valuable for addressing the common issue of tail spend—non-strategic, low-value purchases that drain an organization's resources over time.
"Simfoni's Spend Automation platform provides a value-driven alternative for overburdened and understaffed procurement and finance teams who spend the vast majority of their time, resources, and talent focused on the organizations high-value, strategic sourcing initiatives," said David Bush, CEO, Simfoni Spend Automation. "With Spend Automation, organizations gain access to the tools, insights, and services necessary to analyze, manage, and automate high volumes of non-strategic transactional tail spend – without the substantial cost or up-front investment typically required. This is significant for organizations with constrained procurement budgets. Simfoni's pay-as-you-save model eliminates the barriers to entry, while helping teams to recognize substantial cost savings and economic return from their previously unmanaged tail spend."
ProcureTech 100 included Simfoni on its definitive list of pioneering solutions providers who are supercharging digital procurement and enterprise supply chain with the most innovative and transformative technology, data and analytics solutions on the planet. The 2021 ProcureTech100 were selected from over 4,000 digital solutions, using enriched data and analysis, combined with the collective experience of over 60 procurement leaders, technology experts and B2B investors. "The ProcureTech100 spotlights the most dynamic, future focused digital solutions in the procurement ecosystem that are delivering an impact that matters" Lance Younger, CEO at ProcureTech. "These solutions epitomise the inspiration, the drive and the verve that will shift the whole industry forward...fast."
Simfoni Spend Automation provides a future-ready approach to spend management that helps to control all types of spend. With smooth, agile workflows that can easily scale up or down and connect with other systems as the business' needs change, the platform offers an effortless solution for vendor engagement, autonomous buying and invoicing. What's more, Simfoni's unique Pay-As-You-Save model enables rapid deployment with zero up-front costs.
In addition to ProcureTech100, Simfoni was recently recognized as a leader in the Spend Matters Fall 2021 Solutions Map for Spend Analytics. This adds to an impressive roster of accolades and awards Simfoni has earned in 2021, including CIPS Middle East Supply Management Awards 2021, in which Simfoni took home the prestigious award for 'Best Procurement Consultancy' for a complex Spend Analytics Project for Dubai Holdings; the Gartner Hype Cycle for Procurement and Sourcing Solutions, 2021, in which Simfoni was named as a sample vendor for both Predictive Analytics and Tail Spend Solutions; and Spend Matters 50 to Watch, which selected Simfoni as one of the fast-rising companies in the procurement and supply chain market for the 6th consecutive year in a row—marking the first time any vendor has been chosen for the first 6 years of its existence.
To learn more about Simfoni, please visit https://simfoni.com/.
About Simfoni
Simfoni provides Spend Analytics and Spend Automation products to leading global enterprises. The Simfoni platform utilizes machine learning and artificial intelligence to accelerate and automate key aspects of the procurement process, saving customers time and money and paving the way toward supply chain sustainability. With offices in the USA, Europe and the Middle East, Simfoni works with its customers and the wider vendor community to improve vendor diversity and achieve strategic CSR objectives. For additional information, please visit https://simfoni.com/.
###