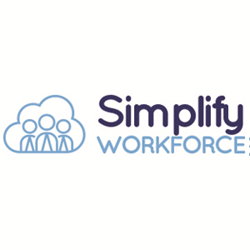 "Simplify is in hyper growth mode, and I'm excited to join the team. Led by passionate technologists focused on providing advanced and socially conscious workforce solutions, its unique platform is already disrupting the space and the product roadmap is brimming with fresh ideas." - Neha Goel
BOCA RATON, Fla. and JERSEY CITY, N.J. (PRWEB) November 01, 2018
Simplify Workforce, an innovative provider of workforce technologies including contingent workforce management and services procurement solutions, has just unveiled several new appointments that will drive the company to the next level.
Neha Goel joins in the capacity of Senior Vice President of Marketing and Strategy – her role combines the firm's marketing and strategic initiatives under one umbrella.
"Simplify is in hyper growth mode, and I'm excited to join the team. As the labor market places greater emphasis on strategic hiring and workers aim for greater employment flexibility, the need for companies to invest in a Vendor Management System (VMS) to gain insights, increase visibility into their workforce, and optimize their labor force becomes clear," Goel said, noting that the company meets a very real need for organizations today. "Simplify Workforce is led by passionate technologists focused on providing advanced, socially conscious workforce solutions. Its unique technology platform is already disrupting the space, and the product roadmap is brimming with fresh ideas."
Goel possesses keen insights into how to lead a rapidly growing B2B SaaS entity. On top of 15 years of experience working with technology, she led the marketing team at DCR Workforce, which was recently bought by Coupa Software in one of the largest acquisitions in the industry's history. Under her leadership, DCR was rebranded from the ground up, won numerous accolades including the 2018 SIIA CODiE award for Best Human Capital or Talent Management Solution, transformed its digital presence and capabilities, and built a best in industry demand generation platform.
Simplify Workforce also welcomes Raul Lopez Pomares as their new Senior Director of Brand and Creative Services, and Patrick Chartrand as Director of Demand Generation. The team will be responsible for delighting Simplify's customers, driving enterprise growth, and being a conduit between sales, implementation, and product teams.
"Based on SimplifyVMS' unique functionality, system-wide configurability, and sleek user interface for managing contingent workers and SOW projects, Simplify has already redefined the concept of a VMS platform and is poised to take the workforce market by storm," Goel said. "I'm honored to be part of the executive team and hope that I can contribute to the company's continued success and leadership."
Manoj Agarwal, CEO at Simplify Workforce, said that Simplify's rapid growth has jumpstarted a significant investment effort that requires all hands on deck: "We're excited to welcome Neha and her team to the organization. As we continue investing in our research and development, streamlining our internal processes, and providing the best customer experience in the industry, investing in a thought leadership group led by a marketing leader with years of industry experience will help us achieve critical mass, quickly."
About Simplify Workforce
Simplify Workforce's flagship product, SimplifyVMS, is a technologist-created workforce platform striving to make a positive impact in the labor markets by innovating on the technology landscape supporting the contingent workforce and SOW verticals.
To feel and learn the difference of the newest technology platform reimagining the workforce solutions market, visit us via our LinkedIn page or request a demo by connecting with us here.
Inquiries should be directed to:
Simplify Workforce
Neha Goel | 561-862-8930
NGoel@simplifyworkforce.com