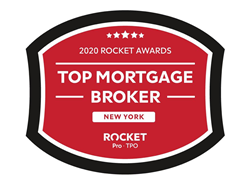 "From our inception, we've been focused on transforming a historically painful [mortgage] process to instead make it delightful from start to finish."
NEW YORK (PRWEB) March 31, 2021
Simplist, a digital mortgage marketplace committed to delivering a seamless customer experience, is pleased to announce that it has won the Top Mortgage Broker in New York Rocket Award for 2020. The Rocket Awards, bestowed by Rocket Pro TPO (formerly Quicken Loans Mortgage Services), honor top-performing partners that have demonstrated a strong commitment to providing excellent customer service and helping more individuals achieve their dream of homeownership.
"Purchasing a home and securing a mortgage remains the biggest financial transaction of most people's lives, and we believe that this should be an exciting milestone as opposed to a source of stress," said Anthony Sherman, CEO of Simplist. "That's why, from our inception, we've been focused on transforming a historically painful process to instead make it delightful from start to finish. We are delighted to be recognized by Rocket Pro TPO, a partner that shares our commitment to delivering an exceptional customer experience."
Simplist's secure platform combines industry expertise and advanced technology to significantly streamline the mortgage procurement process. With one simple application, Simplist sources options from many of the nation's top lenders, making it easy for borrowers to identify the best mortgage for them. The firm's user-friendly digital solution is complemented by helpful loan experts, who are dedicated to providing unparalleled customer service every step of the way. Unlike deceptive lead-gen sites that simply farm out customers' information, Simplist safeguards applicants' data and serves as their single point of contact throughout the entire mortgage origination journey.
Currently, Simplist works with almost 30 lending partners—including national brands such as Quicken Loans and loanDepot, as well as regional powerhouses. To learn more, please visit http://www.simplist.com.
About Simplist
Simplist is a digital mortgage marketplace committed to modernizing and simplifying the mortgage application process. Launched early in 2020 by a team of experienced real estate and finance experts, Simplist works with major national firms and established regional lenders alike to help prospective homeowners find mortgages as unique as they are. The firm is headquartered in New York, NY and currently helps customers to secure their dream homes in six major U.S. markets (California, Florida, Pennsylvania, New Jersey, Connecticut and Colorado). For more information, visit simplist.com.