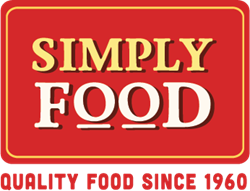 We are eager to transform the image of rice noodles in the United States. We believe we craft some of the best rice noodles in the world, and are thrilled to introduce these culinary treasures to home and restaurant kitchens.
ANAHEIM, Calif. (PRWEB) December 03, 2020
Home cooks, restaurant chefs and grocery stores in the United States no longer must settle for pedestrian rice noodles, the kind that never become supple, turn gummy when cooked and either taste stale or lack flavor altogether.
Simply Food today announces its new line of artisan rice noodles, available in grocery stores and online for consumers, as well as through wholesale accounts for restaurants and shops. Simply Food gluten-free products are among the best rice noodles in the world.
"We have long lamented the low quality of rice noodles available in the United States. Too often, people cook with noodles that leave them frustrated and disappointed," said Simply Food CEO Thang Nguyen. "But Simply Food artisans craft exceptional noodles from our custom blend of rice strains, including one that recently was awarded the best rice in the world. From bowls of pho to plates of stir-fries, spring rolls and even gluten-free noodles with tomato sauce, meatballs and Parmesan cheese, Simply Food noodles set a new culinary standard."
Crafting the best rice noodles revolves around two key foundations: rice quality and artisanship.
Simply Food's team has spent decades experimenting with rice blends that work best for different kinds of noodles. The blend of rice strains in a flat noodle called banh pho used in dishes like pho demand one combination, for example. But the mixtures for thin vermicelli or sheets of rice paper are different.
The best blends in the world, however, don't translate into rice noodle excellence if the people crafting the noodles are not steeped in experience. The team behind Simply Food's rice noodles are veteran artisans who devote their lives to rice noodle craftsmanship. Their commitment to the art of turning grains of rice into pliant, bouncy, strong and flavorful rice noodles reveals itself with every bite.
"Differences between run-of-the-mill and exceptional Italian wheat pastas are enormous, and many consumers understand the distinction. Quality varies dramatically between rice noodles, too, but far fewer consumers are aware of this," said Dr. Crystal Nguyen, Simply Food's Director of Product Development. "We are eager to transform the image of rice noodles in the United States. We believe we craft some of the best rice noodles in the world, and are thrilled to introduce these culinary treasures to home and restaurant kitchens."
Both Thang Nguyen and Crystal Nguyen are available for interviews. To reach Thang and Crystal, or for more questions about Simply Food, please email or call Douglas Brown with Campfire Content: doug@campfirecontent | 303-241-0141