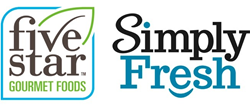 ONTARIO, Calif. (PRWEB) October 17, 2018
FiveStar Gourmet Foods, Inc. has developed a brand platform that is resonating with consumers across the country and is on a billion dollar annual sales trajectory.
"Simply Fresh by FiveStar Gourmet Foods is more than a brand name, it is a brand promise," says FiveStar C.E.O. and founder, Tal Shoshan. "The Simply Fresh brand sums up exactly what consumers are looking for: pure, clean ingredients, great flavor, and visual appeal. There is a lot of science behind our food safety, quality assurance, and packaging, but in the end, it's the culinary pairings of amazing salad toppings, dressings, and the freshest produce, that keep our consumers coming back for more."
When FiveStar entered the retail marketplace five years ago, the market lacked creativity and innovation. The single-serve salads, snacks, and fresh meal categories depended on dated packaging technology and very basic recipe execution. FiveStar saw an opportunity to disrupt these large and staid categories with superior workmanship, innovative recipes, and state of the art patented packaging, bringing much needed innovation to the salad, snack and fresh meal categories.
Retailers across the country have taken notice and have made Simply Fresh one of the fastest growing fresh food brands today. Top retailers like Costco, Publix, Wegman's, Target, and Aldi have capitalized on the value Simply Fresh provides to its customers. Simply Fresh Salads® are consistently amongst the highest grossing items in the entire fresh category, a testament to the quality and value intrinsic in the brand.
Elaborating on the decision process to enter the single-serve salad category, Mr. Shoshan, also a classically trained Chef, noted, "When we assessed the category, we saw that there was absolutely no brand that targeted a more sophisticated consumer. Simply Fresh Salads® were launched on the simple premise that if you provide recognizable premium quality at an affordable price, consumers will respond. We basically redesigned the salad bowl from the ground up. Everyone was featuring a round bowl – we designed and patented a square bowl. The category featured phosphate-injected chicken – we featured antibiotic-free, natural chicken. The existing dressings were generic and bland – we created our own fresh made, signature dressings that we produce in-house." Priced affordably, Simply Fresh created the premium salad bowl segment within the category. The result was an instant success.
Retailers are now adding incremental sales to the category with value and premium salads merchandized side by side. In doing so, retailers experienced increases in year-over-year sales in excess of 50%, after adding the Simply Fresh brand. Sustained double-digit growth has followed. This was truly unprecedented growth for what was perceived to be an established category. "What's amazing about what we have done with Simply Fresh is not only that we created a premium category that did not exist, but we have helped reshape an entire industry. Everyone started to take note and make changes to compete with us. We brought much needed competition to the category," says Shoshan.
The success of Simply Fresh Salads® has forced traditional national brands to 'up their game' and try to increase both the quality and the breadth of their offerings. FiveStar continues to grow and innovate with two exciting new salad lines that will redefine the lucrative salad kit and single-serve salad spaces.
About FiveStar Gourmet Foods, Inc.:
FiveStar Gourmet Foods, Inc. has over 20 years of experience in the prepared fresh food industry and has made a name for itself as an innovator, introducing green packaging, providing healthy choices, and exceeding industry standards for food safety across their Simply Fresh product lines. Several state of the art facilities throughout the country, organic Certification, and the highest quality and food safety Certification of SQF Level 3 puts them at the pinnacle of fresh food preparation. For details and item availability contact FiveStar Gourmet Foods, Inc. at (877) 546-8763 or info@fivestargourmetfoods.com.
Media Contact:
Steve Fleckenstein
FiveStar Gourmet Foods, Inc.
3880 E. Ebony Street
Ontario, CA 91761
909.683.4561 direct
909.390.0032 office
909.390.0095 fax
sfleckenstein@fivestargourmetfoods.com