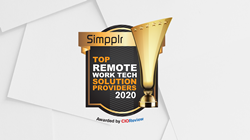 "Simpplr is really excited to be recognized by CIO Review as a value remote work solution provider," said Dhiraj Sharma, Simpplr Co-Founder, and CEO. "As organizations transitioned to work from home this year, communication became a top priority and the need for a virtual headquarters emerged."
REDWOOD SHORES, Calif. (PRWEB) October 20, 2020
Simpplr, an employee communication and engagement platform that markets itself as today's modern intranet, today announced that the company was awarded as a 'Top Remote Work Tech Solution Provider 2020' by CIO Review.
Simpplr's software helps organizations connect, engage, and align their workforces by streamlining communications and equipping employees with information across multiple locations. Modern intranets help create a more engaged and connected digital workplace and streamlines critical top-down communication to create a single source of truth.
"Simpplr is really excited to be recognized by CIO Review as a valuable remote work solution provider," said Dhiraj Sharma, Simpplr Co-Founder, and CEO. "As organizations transitioned to work from home this year, communication became a top priority and the need for a virtual headquarters emerged."
COVID-19 has amplified the need for modern intranets as employees are getting further disconnected from many of their coworkers and other departments. Many companies are reevaluating their communications tech stack to help employees stay informed and connected. Whereas it's easy for formal communications to get buried in emails or messaging apps, Simpplr helps ensure the most important updates make it to all employees.
Sharma continues, "As prolonged remote work continues, employees are starting to miss social interactions, Simpplr also makes it easier to connect and recreate the water cooler effect. The platform has native social and collaboration features and we're seeing it used more frequently from employees to connect across departmental lines."
About Simpplr
Simpplr is today's modern employee intranet. Our software helps companies engage their workforce by streamlining internal communication and forging employee connections.
Simpplr partners with many leading brands across industries. Examples include: Workday, AAA, Fox, Vertex Pharmaceuticals, DocuSign, Eurostar, The World Economic Forum, and Columbia University. Our customers are improving productivity, increasing employee engagement, and reducing employee turnover. More importantly, improved internal communication is helping employees feel connected to their companies.
Simpplr is headquartered in Redwood City, CA with an office in Gurgaon, India, and is backed by Norwest Venture Partners, Salesforce Ventures, and Still Venture Capital.
Visit simpplr.com and join the conversation on Twitter @simpplr.