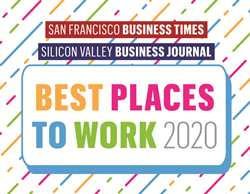 "As an organization based on promoting employee engagement and communication, this award is a true testament to the work we do to invest in our growing Bay Area employee base and work culture."
REDWOOD CITY, Calif. (PRWEB) May 11, 2020
Simpplr, the employee communications and engagement platform marketed as today's modern intranet, has been recognized as a winner of the 2020 Bay Area Best Places to Work, an awards program presented by the San Francisco Business Times and the Silicon Valley Business Journal. Simpplr's technology, which helps connect and align distributed employees, has seen increased attention during COVID-19.
Select employers from the Bay Area were named winners of the award on April 24, 2020. These winning organizations were honored for having created exceptional workplaces that their employees value highly.
"We're really proud to be recognized by San Francisco Business Times and the Silicon Valley Business Journal based on a survey from the people who matter the most – our employees," said Dhiraj Sharma, Simpplr Co-Founder and CEO. "As an organization based on promoting employee engagement and communication, this award is a true testament to the work we do to invest in our growing Bay Area employee base and work culture."
Covid-19 has brought renewed attention on employee communication technologies like intranets. As many employees work from home for extended periods of time, organizations are forced to change their work habits - there has never been a stronger need for technology to keep employees up to date, help people stay socially connected, and help companies maintain a cohesive culture and corporate identity.
Award applicants were evaluated and ranked across 5 categories according to the number of Bay Area employees. The ranking found companies in the region whose employees rate them as the highest on such values as fun, collaborative culture, solid compensation and benefits offerings and other amenities as well as management practices. The rankings were unveiled in the San Francisco Business Times and the Silicon Valley Business Journals.
Currently, Simpplr is running a Two-Week Rapid Deployment Solution to support organizations with its enterprise-wide internal communications platform. For more information, please visit: https://www.simpplr.com/rds-2020/
About Simpplr
Simpplr is today's modern employee intranet. Our software helps companies engage their workforce by streamlining internal communication and forging employee connections.
Simpplr partners with many leading brands, including Workday, AAA, Vertex Pharmaceuticals, DocuSign, Eurostar, and Columbia University. Our customers are improving productivity, increasing employee engagement, and reducing employee turnover. More importantly, the improved internal communication is helping employees find work meaningful and fulfilling.
Simpplr is headquartered in Redwood City, CA with an office in Gurgaon, India, and is backed by Norwest Venture Partners, Salesforce Ventures, and Still Venture Capital. Visit simpplr.com and join the conversation on Twitter @simpplr.
About 2020 Bay Area Best Places to Work
Best Places to Work is an innovative publication and awards program produced by the San Francisco Business Times and the Silicon Valley Business Journal. The rankings were determined by surveys that went directly to employees who answered a series of questions. The survey was administered online by the employers and through a service provided by Quantum Workplace, our research partner. The rankings are numeric based on Quantum's scoring process. By ranking companies and sharing best practices we facilitate idea sharing and help other companies learn from the best.