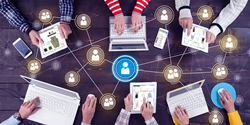 Since our clients and supply chain are international, we've always been digital first and we've always focused on how to improve communication 24/7. PLM was an organizational need for us.
CAMPBELL, Calif. (PRWEB) July 16, 2020
Since the COVID-19 outbreak, Centric Software®'s market-leading Product Lifecycle Management (PLM) solutions have been selected by 30 brands, retailers and manufacturers to boost efficiency, reduce costs and drive remote collaboration. Centric Software provides the most innovative enterprise solutions to fashion, retail, footwear, outdoor, luxury, consumer goods and home décor companies to achieve strategic and operational digital transformation goals.
Brands, retailers and manufacturers – ranging from large retailers to digital natives to upcoming brands to traditional manufacturers - from 10 countries have shown an overwhelming need to quickly adapt to the new conditions imposed by the pandemic and prepare for the future.
"Our customers realize that it is more important than ever to invest in digital solutions to streamline remote collaboration, cut costs and maximize efficiency," explains Fabrice Canonge, Executive Vice-President Global Sales & Marketing at Centric Software. "For some companies, remote working has exposed weaknesses and forced people to rethink how they work. Remote collaboration, and working in person, are both far more efficient with the right tools in place. Businesses are now prioritizing the projects that will deliver lasting benefits and improve their chances of survival."
"We recently launched Quick Start Collaboration packages to enable companies to swiftly implement core PLM functions and transition to remote working. Centric has proven its ability to produce a concrete return on investment with the fastest time to value and lowest total cost of ownership, and the market is responding to that."
Many innovative companies agree. A handful are cited:

From France, apparel manufacturer for retailers like E.Leclerc, Carrefour and Galeries Lafayette, Gil Claude, CEO, Eric Ammar says,
"Demanding consumers necessitate a faster product development and production process that includes traceability. Trends that were developing prior to the pandemic are now becoming a must have, not a nice to have. With Centric, we'll see significant operational improvements and be able to collaborate better with our factories and our clients."
From the US, apparel and footwear manufacturer Otabo, Chris Finlay, Chief Growth Officer explains,
"Since our clients and supply chain are international, we've always been digital first and we've always focused on how to improve communication 24/7. PLM was an organizational need for us."
From China, home textile maker for companies like Nordstorm, Pottery Barn, John Lewis and more, Sunwin, Chairman, Wang Yaomin, says,
"Companies with long-term strategic plans will not cease to move forward because of short-term difficulties. Competitiveness must come from the product itself, and Centric PLM can help us to strengthen the power of our products."
From Spain, fashion manufacturer T2T for brands like Zara, Mango, Desigual and others, CEO, Jordi Blasco explains,
"Centric will support our fashion design team with a centralized, digital platform, enabling streamlined remote collaboration with our suppliers and relieving market disruptions like those brought on by the recent pandemic."
"We are proud to forge new partnerships amid global uncertainty," says Chris Groves, President and CEO of Centric Software. "As the world adjusts to a new reality, businesses are placing their trust in Centric PLM to make them more strategic, reactive and profitable."
Learn more about Centric PLM