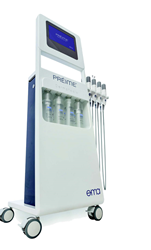 Savvy patients are seeking treatments that produce long-term results. Préime DermaFacial's multi-technology approach allows providers to offer reproducible results that render high patient satisfaction. - Sinclair North America CEO, Andrea Trofimuk
NEW YORK (PRWEB) December 09, 2022
The Préime DermaFacial was designed by skincare experts, for skincare experts. Focusing on efficacy, limitless treatment combinations and ease of use, the Préime DermaFacial is the primary skincare platform for clinics, aesthetic centers, and medical spas.
Anil Rajani M.D., CEO of Style Aesthetics commented, "As an early adopter of Préime DermaFacial, I'm excited about the device's potential in my practice. You can have great ingredients but if they do not reach the target tissues, you will not see results. This system solves that issue by prepping the surface and facilitating delivery. I finally feel like we have solved this problem".
This state-of-the-art system offers a completely new approach in performing treatments, by delivering treatment information to the aesthetic providers. This allows users to understand, examine and constantly improve their own methods and practice. The information enables users to maintain detailed records allowing for greater efficacy of client treatment plans.
"The early demand for the Préime DermaFacial from surgery centers, dermatologists, resort spas, and medspas has been astounding. Providers are seeking advanced technologies that cater to the growing demand across all demographics. Savvy patients are seeking treatments that produce long-term results. Préime DermaFacial's multi-technology approach allows providers to offer reproducible results that render high patient satisfaction." - Sinclair North America CEO, Andrea Trofimuk
About Sinclair
Sinclair is an international company operating in the fast growth, global aesthetics market. Sinclair has built a strong portfolio of differentiated, complementary aesthetics technologies, which are experiencing significant growth, targeting unmet clinical needs for effective, high quality, longer duration, natural looking and minimally-invasive treatments. Sinclair is planning entry to multiple new geographic markets and line extension launches over the next few years. The Group has an established sales and marketing presence in the North America, EU markets, Brazil, Mexico, Colombia, UAE, Hong Kong and South Korea and a network of international distributors. For more information, visit http://www.sinclair.com.