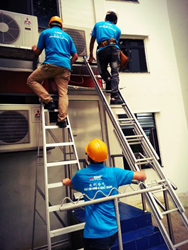 Singapore (PRWEB) July 15, 2017
Places in the tropics require air conditioning more than other areas because of the heat. Singapore is one of these places. This is where Billy Aircon operates and serviced more than 985 Singaporean homes and buildings.
A malfunctioning air conditioner is a regular problem in Singapore. Not everyone can get quality aircon services to their location. Anywhere in the city, Billy Aircon can send their team to do repair and installation jobs which they are known for along with a Workmanship Warranty of 90 days.
This is a part of the service guarantee the company provides to clients where they deliver quality solutions to common AC problems. Customers have a service claim within 90 days for a botched service. Billy Aircon will not charge for the subsequent repairs with this guarantee.
The warranty is on top of the low rates the company charges for their services. Customers can get affordable service rates for their troubleshooting services, standard air-con servicing, chemical washing, and gas top-ups.
Billy Aircon also offers service contracts for 1 year which has a quarterly schedule of visits from their expert technicians. They have 12 professional technicians who have undergone the necessary training and experience in delivering high quality air-con repair and maintenance services.
From the official Billy Aircon website, clients can also read the company's blog which outline a host of topics including AC servicing, expert tips, and other relevant information about air-conditioners. Viewers can also view their online FAQ page as a resource for common AC problems experienced in households.
The long list of clients of the company include big companies, businesses, and hundreds of homeowners all over Singapore. Many of whom have left positive reviews on their all-inclusive aircon services from check-up, installation, maintenance, to repair.
Avail of Billy Aircon services via http://www.billyaircon.com.sg or call +65 9456 0875. They have a full customer service staff on stand-by to take any calls. Visit their office at: Billy Aircon Servicing & Repair Singapore, 35 Circuit Rd, Singapore 370035