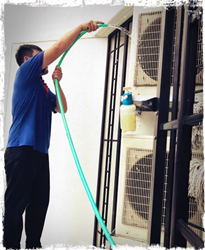 SINGAPORE (PRWEB) November 07, 2018
According to Coolbest Aircon Servicing, the efficiency of the AC unit plays a crucial role in how much energy it is going to use in terms of cooling the room or house.
"One of the factors that cause an AC unit to be inefficient is lack of maintenance, which is common among many home and office owners," said Orman Dayp of the servicing department of Coolbest Aircon Servicing.
According to him, a simple aircon cleaning will go a long way not just in preserving the life of the aircon but as well saving on energy costs.
"You can cut down five to 10 percent of your energy bill by simply observing proper maintenance schedule of the air conditioner," Dayp added.
Moreover, Coolbest Aircon Servicing also offered another alternative to achieve faster and longer cooling of rooms. Based on the report released by the company, planting trees and shrubs around the property have a direct impact on the amount of energy being spent on air cooling. It is estimated to reduce up to 10 percent of the household's usual electric bill, compared to having a bare surroundings.
"It's always readily assumed by people that air-conditioners are expensive, but most of the time, it actually is all about having a proper maintenance plan in place," Dayp noted.
The company also recently introduced technology for more convenient air conditioning operation, including wifi enabled thermostat. While these programmable may be a bit costly compared to the manual thermostat, Coolbest Aircon contends that in the long term this type of thermostat will prove to be more budget-friendly and convenient.
As part of the company's advocacy for responsible aircon usage, Coolbest Aircon Servicing regularly releases their expert tips on their website to ensure that their clients get the most out of their heating, ventilation, and air conditioning (HVAC) system.
Coolbest Aircon Servicing is one of Singapore's leading aircon servicing company that offers maintenance, repair, and installation of HVAC units. They can be contacted at +65 9182 5233, https://coolbestaircon.com and Block 540 #03-1108, Jurong West Avenue 1, Singapore 640540. Follow the map at here.