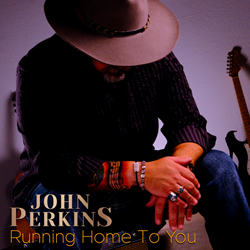 A little something to remind us of our hard working truckers!
TAMPA, Fla. (PRWEB) April 11, 2022
"I wanted to write a song for our truckers out there on the roads in support and appreciation for what they do. The reality is, our needs and wants depend on them and I wanted to dedicate my song (Running Home To You) to them. Hopefully this song gives them some hope that they will be home soon with the ones they love... I feel the video tells a great story."
John Perkins is a singer-songwriter living in Palm Harbor, Florida. Growing up in Kentucky, he always wanted to write music and perform. While recording his debut album, the global pandemic caused the supply chains to be interrupted to no fault of our hard-working truckers.
His upcoming album "Country with Me" is set for release in the summer of 2022 and is packed with heartfelt melodies and vocal harmonies.
Website: http://johnperkinsmusic.com/
Facebook: https://www.facebook.com/John-Perkins-Music-111890964592911
Instagram: https://www.instagram.com/johnperkinsmusic/
YouTube: https://www.youtube.com/channel/UC0y54vHsIQxuVW4o4q7TrqA