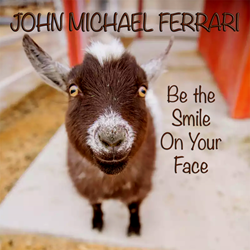 "No Earplugs Required," Los Angeles Times
PAHRUMP, Nev. (PRWEB) June 18, 2020
Award-winning poet singer songwriter John Michael Ferrari (ASCAP and NSAI) writes emotional story-telling songs with touches of sophistication and child-like wonder across country, adult contemporary, top 40 genres for his "Be the Smile on Your Face" album. His songs are inspired from his life experiences and those of others.
12 Tracks on the "Be the Smile on Your Face album:
Be the Smile on Your Face (I want to love you like this.)
Don't Need a Reason (You're more than I could imagine.)
I Don't Want to Love (I can see your tears are mine.)
If We Could Be Lovers (The things we could discover.)
Keep Falling All Over Myself (Whatever loving you need I'd be willing to try.)
Nowhere to LA (I look around and you're not there.)
Peggy Sues (And pictures of a little girl who will never know who I am.)
So Beautiful (I made a wish and opened my eyes, now I'm here looking at you.)
Somewhere We Could Fall (Can't help myself feeling this way.)
What Are You Doing? (You're wearing down your time.)
Who Can Blame a Broken Heart? (First night without you.)
You Should be Winning (Everyone can be a winner too!)
"Be the Smile on Your Face" album was recorded (2020) at Larry Beaird Studios, Nashville, produced by Pepper Jay, and written and performed by John Michael Ferrari.
The "Be the Smile on Your Face" album features John Michael's recent single, "So Beautiful," which many call the "#PerfectLoveSong." "So Beautiful" is climbing up several radio charts. Pepper Jay and Larry Beaird gathered the talent of many music industry professionals who came together to create "So Beautiful," including Eli Beaird (bass), Larry Beaird (acoustic guitar), Evan Hutchings (drums), Troy Lancaster (electric guitar), Billy Nobel (keys), Russ Pahl, (steel guitar), Jim "Jimbo" DeBlanc (tracking / BGV engineer) Rob Lane (Vocal Engineer), David Buchanan (mix engineer), and gorgeous background background vocals of Tania Hancheroff, which captivate the listener at once.
Also a big thank you from John Michael Ferrari and Pepper Jay to the knowledgeable ears of George Velmer and the connections of Cat Nakos for all of their behind-the-scenes assistance.
Music has been John Michael's life; writing it and performing for audiences across the country. Pepper Jay and John Michael have been music producer partners for 30 years. Together, they have created dozens of original songs. He performs across the country as a solo, duo, or "keynote concert" or with House Bands, or his own bands; the John Michael Ferrari Band in Las Vegas or the Gary Sadker Band in Nashville.
John Michael was recently named Outstanding Male Singer Songwriter of the Year by the Producer's Choice Honors 2019.
John Michael was recently awarded Best Peace Song of the Year 2020 at the Hollywood Tribute to the Oscars by Art 4 Peace for his song, "Like a Rock and Roll Band."
Newspapers and magazines have been generous to John Michael Ferrari. The Los Angeles Times wrote a full-page story on John Michael entitled, "No Earplugs Required". Recently, John Michael Ferrari graced the cover of Hollywood Weekly, Feb 2020, with a 6-page article, and in 2019, was covered in a 6-page article in Pahrump Life Magazine.
Please check out http://www.JohnMichaelFerrari.com for John's tour schedule.
Trivia: John Michael Ferrari is a teacher, a pubic speaker and keynote concert speaker, author of "Acting with Your Eyes" and co-author of "Dynamic Song Performance, The Singer's Bible."
Early Life:
John Michael Ferrari's childhood was not a happy one. He found refuge in roller skating, ice skating, and playing his guitar and singing. (He was not allowed to play his guitar in his step-father's house.) The first song he learned was "Tom Dooley" and the first song he wrote at 14 was "Wah Do Wah Do" (not one for the record books.)
Never wanting to be with his abusive step-father, John Michael spent his childhood on the streets of San Francisco and got into trouble. Finally, at age 15, a Judge called him incorrigible. Not understanding what that word meant, he responded "Thank you" and the Judge sentenced him to 2 years in the Nevada State Children's Home in Carson City. John Michael explains "The State Children's Home was probably the best thing that could have happened to me and the first time I felt safe as a child or teen". Before graduating high school, the principal suggested John Michael drop out of school and join the military … which he did … the U.S. Army.
"Be the Smile on Your Face" is released on all musical platforms and the CD arrives on Amazon in June 2020.
John Michael Ferrari loves entertaining. Per John, "There's never a stranger in the audience."