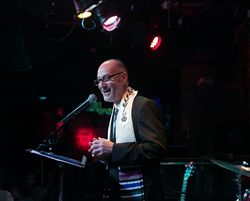 Kremin notes, "The unique Sim Shalom services appeal to my sense of Judaism and my progressive nature. Judaism is not stagnant. These services make you feel alive."
NEW YORK (PRWEB) September 23, 2019
This past Saturday night the Jewish High Holidays were announced around the globe with the observance of Selichot or special prayers in preparation for the Days of Awe as some refer to the Jewish High Holidays.
Sim Shalom Online Synagogue will hold its annual live "awesome" High Holiday services at the Bitter End in Greenwich Village, New York featuring Rabbi Steve Blane and his quintet: Jack Glotman on Piano, Carol Sudhalter on Sax and Flute, Liz Taub on Fiddle, Kevin Hailey on Bass and Frank Levitano on Drums.
We are thrilled to announce that Evan Kremin will be joining us again in 2019 (5780). Evan has blown shofar at the jazz inspired Rosh Hashana and Yom Kippur services for the past four (4) years. A singer/songwriter, Evan Kremin, began blowing shofar after he bought a grand shofar in East Jerusalum. He added this skill to his musical repertoire in 1999 – Evan began studying and playing music when he was three (3).
Paul Rizzo, the owner of the Bitter End, and Evan enjoy the Jewish connection of hosting the services. Kremin notes, "I find participating in the HH services exhilarating. There is a special feeling in the air and my bones as the season approaches. I am reminded of going to Temple as a child, cleansing and family. The unique Sim Shalom services appeal to my sense of Judaism and my progressive nature. Judaism is not stagnant. These services make you feel alive." Here is a link to view last year's service. https://youtu.be/vlDXeO1LWZk
Today, in addition to his role as Assistant Manager of the Bitter End where he has worked for the past 30 years, Evan performs across the New York and New Jersey Tri-State area. Additionally, you will find Evan online with Rabbi Steve Blane throughout the year at the Sim Shalom ongoing Friday evening services. Join any Friday night at http://www.simshalom.com or sign up on the website to receive weekly invites.
To purchase tickets for Rosh Hashana go to the Sim Shalom website.
About Sim Shalom and JSLI
Sim Shalom is an interactive online Jewish Universalist synagogue which is liberal in thought and traditional in liturgy. Created in 2009 by Rabbi Steven Blane on Manhattan's Upper West Side, Sim Shalom offers a means of connecting the unconnected. Rabbi Blane leads accessible and short Shabbat services every Friday night using a virtual interface and additionally Sim Shalom provides online education programs, Jazz concerts, conversion and life-cycle ceremonies along with weeknight services at 7:00PM EST led by Rabbis and students of this online community.
Rabbi Blane is also the founder and director of the Jewish Spiritual Leader's Institute,
http://www.jsli.net, the online professional rabbinical program and of the Union of Jewish Universalist Communities, an association of Rabbis and communities who support Jewish Universalism.
Sim Shalom, a non profit 501 © (3) tax-exempt organization, nurtures a Jewish connection through its mission of innovative services, creative education and dynamic outreach to the global community. For more information visit http://www.simshalom.com or call 201-338-0165.