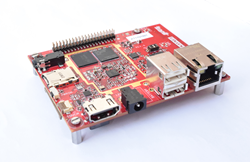 (PRWEB) August 10, 2017
Kaynes Technology India Pvt Ltd., a leading EMS and embedded design services company specializing in ARM Core CPU based designs, announces the launch of its SKATE-212 - a tiny Single Board Computer (SBC) based on Qualcomm® Snapdragon™ 212 processor, a product of Qualcomm Technologies Inc.
SKATE-212 SBC is an ultra-small (90mm x 70mm) development kit and the board features On-Board peripherals like, Wi-Fi & BT, GPS, HDMI, Audio, Mic, 8MP/ 2MP MIPI Camera Interface, Micro SD, Ethernet, USB Host & Client, 8GB LPDRR3 eMCP chip (expandable), Gyro, Accelerometer, Compass & Magneto sensors and it is available with preloaded Android 7.0 Nougat / Linux (On Request).
The operating temperature of this Snapdragon 212 SBC is -30° to +85° Celsius. Industry standard I/O's (40 Pin) help to create the perfect environment for a variety of Android applications including digital signage, industrial automation and video conferencing. The Snapdragon 212 houses a Qualcomm® Hexagon™ DSP and a Qualcomm® Adreno™ 304 GPU for robust graphics processing. Security features include Qualcomm® Trusted Execution Environment.
"SKATE Board is a tiny Single Board Computer designed with Snapdragon 212 processor and it is Kaynes Technology's maiden product on Snapdragon platform. The Qualcomm Snapdragon 212 processor is a cost-effective solution for driving innovation beyond the smartphone and is powering the next generation of high-tech devices, making them become aware, connected, intelligent and interactive." Says Jim Cathey, Senior Vice President and President, Asia Pacific and India, Qualcomm Technologies Inc.
"We are proud to launch the SKATE-212, the next generation development platform of our SKATE family of Single Board Computers based on the popular Snapdragon 212 processor. Customers who are designing their end products using our SBC, can concentrate on their core business logic and we can shoulder their product design task so that the total time to market would be much lesser than their competitors without compromising on quality and of course, cost effective." - Says Ramesh Kannan, President & Managing Director of Kaynes Technology, India.
About Skate Board
SKATE board is a Single Board Computer family from Kaynes Technology. SKATE-212 is the first SBC from this family based on the Qualcomm Snapdragon 212 processor. This SKATE board houses all the peripherals on-board and is tiny in size, hence developers can slide faster during the development phase.
Pricing and availability
You can Pre-Order SKATE-212 development kit samples from our online store. For volume pricing, kindly write to salesEDS(at)kaynestechnology.net. For more information, Please visit Snapdragon SBC. Also watch SKATE board unveiling video at http://www.youtube.com/watch?v=XIdi0bNLU70
SKATE development kit supports other accessories like 7" Capacitive Touch Screen, Dual Camera board (8MP&2MP resolutions)
About Kaynes Technology
Kaynes Technology is an electronic manufacturing services company with around 30 years of experience in the industry. We are one of the most renowned company in India and serving customers through our 7 manufacturing plants across India. Our R&D services has designed many medical devices products, automotive products and Industrial IoT products for customers across the globe.
Our Embedded R&D services team has in-depth knowledge in Concept – to – Product design services, BSP customization & porting, Device Driver Development, Camera Design & Integration, Camera driver development and Application Software services expertise. We are capable of bringing your concept to realization in a relatively shortest development by applying thoughts.
For more information please contact:
Venkat Prabu Padmanaban
salesEDS(at)kaynestechnology.net
Ph: +1 408-641-4272
Website: eds.kaynestechnology.net
Note: References to corporate, product or other names may be trademarks or registered trademarks of their respective owners.
Qualcomm Technologies, Inc., is a subsidiary of Qualcomm Incorporated. Qualcomm, Snapdragon, Hexagon and Adreno are trademarks of Qualcomm Incorporated, registered in the United States and other countries.
Qualcomm Snapdragon, Qualcomm Hexagon and Qualcomm Adreno are products of Qualcomm Technologies, Inc.