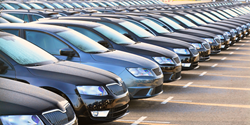 BEAVERTON, Ore. (PRWEB) October 05, 2020
AutoAp, Inc., the automotive industry's leading safety recall management software as a service (SaaS) company, today announced the launch of its Quick Recall Management service (QRMsm).
The QRM service is an automotive recall notification service aimed at smaller single point franchise dealers who are looking for a hands-off, simple and effective service for monitoring recalls of their current vehicle inventory, at an affordable price. Each day, AutoAp pulls the dealer's Vehicle Identification Numbers from existing inventory to determine if any of those vehicles have open safety recalls, or vehicles added with prior unrepaired recalls. The dealer can then do the needed repairs to make vehicles compliant and ready for sale.
"We recognized that many single point dealers want a more simplified version of our comprehensive recall management solution," said AutoAp CEO Mark Paul. "We have developed the QRM as a way to provide these dealers with an entry point for better managing safety recalls: automating an otherwise manual and error-prone way. The daily VIN pull provides them insights that they simply can't find in such a simple, hands-off format."
AutoAp, which launched its Dynamic Recall Management (DRMsm) service in 2015, is currently working with nearly 1,500 dealerships across the country to help dealers manage open recalls by providing the most-accurate and timely recall information available.
In addition to their DRM service, their Safety Recall Insights (SRIsm) service enables dealers to obtain their Safety Recall Liability (SRLsm) Score and on-demand, specific recommendations to help dealers make operational improvements to better manage the recall process.
AutoAp launched the DRM service because the current recall ecosystem is broken. Out of the nearly 1,000 recalls published each year, more than 100 of these have an average delay of 16 days between an auto manufacturer's announcements and National Highway Transportation Administration (NHTSA) publishing the recalls, with many being delayed for months. In addition, an AutoAp review of the NHTSA data in 2014 found an error rate of nearly 30 percent. These errors persist, even today.
"With the number of errors, missed recalls and timing delays inherent in the current recall ecosystem, dealers are at serious risk for selling vehicles with open safety recalls," Paul said. "What's worse is – missed recalls equals missed profit opportunities. "Implementing automated systems like the QRM, DRM and SRI services from AutoAp provide dealers with additional revenue and profits, and are the dealer's best lines of defense in protecting themselves from non-compliance and from selling vehicles with open recalls."
The QRM service is available to single point dealers starting at $49.95 per month.
About AutoAp
AutoAp, Inc., is a Beaverton, Ore., based company providing the auto industry's leading safety recall management technology, with the most accurate, timely and comprehensive recall management solutions to help franchised and independent auto dealers, automotive solutions providers, fleet management companies, corporate and government fleets and rental car companies, increase driver safety, lower liability, generate service revenue and reduce recall management costs. Find out more at https://qrm.autoap.com.