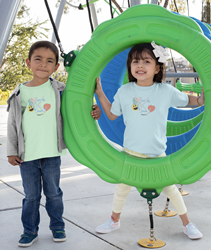 "We partnered with J. Rieger & Co. Distillery to raise needed funds for service industry workers and those on the front line fighting this virus." Emily Elmore, Creative Director of Single Wing Creative.
KANSAS CITY, Mo. (PRWEB) April 13, 2020
Single Wing Creative, a graphic design and public engagement firm in Kansas City, Missouri, has launched a campaign to raise funds for hand sanitizer for front-line workers and restaurants that are serving the public during the Coronavirus crisis.
Single Wing Creative has designed a line of clothing and merchandise, named the Support KC Industry Collection, to support the fundraiser, and 100% of all proceeds from the sales of that merchandise will go towards providing sanitizer to individuals and restaurants who sign up to receive it.
Single Wing Creative is partnering on this campaign with Kansas City's J. Rieger & Co. Distillery, which has converted its distillery into a hand sanitizer factory, producing Rieger's Remedy Sanitizer. J. Rieger & Co. has generously offered to match all funds raised with an equivalent donation of sanitizer.
Individuals and restaurants interested in sanitizer will be invited to begin signing up to receive the sanitizer on April 13, via a form on the emoji my city website. The campaign is running from April 9-April 24. Distribution is planned to occur at J. Rieger & Co. Distillery on April 28 and 29, and recipients will be notified via email when they may come pick up sanitizer.
About Single Wing Creative and the Support KC Industry Collection
In response to the coronavirus crisis, the team at Single Wing Creative has created a line of t-shirts, sweatshirts, hats, and totes featuring custom graphics that pay tribute to our city and its critically important hospitality industry. 100% of the proceeds from the Support KC Industry Collection will benefit causes tied to the hospitality sector and its workers.
The first beneficiary of this project was the Crossroads Community Kitchen at the Rieger.