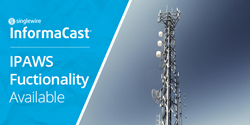 "With added IPAWS functionality, our InformaCast mass notification software expands its already robust reach to ensure everyone is aware that a crisis is taking place." - Pat Scheckel
MADISON, Wis. (PRWEB) June 03, 2020
Singlewire Software, a leading mass notification technology developer, now offers Integrated Public Alert and Warning System (IPAWS) mass notification functionality via its InformaCast Fusion and InformaCast Mobile software offerings. IPAWS provides public safety officials (federal, state, local, tribal, etc.) with an effective way to alert and warn the public about serious emergencies. This new functionality within InformaCast utilizes the Emergency Alert System (EAS) and Wireless Emergency Alerts (WEA) to broadcast messages.
"The biggest hindrance for someone seeking safety during an emergency is not seeing an alert," said Pat Scheckel, executive vice president of product management at Singlewire Software. "With added IPAWS functionality, our InformaCast mass notification software expands its already robust reach to ensure everyone is aware that a crisis is taking place."
InformaCast uses IPAWS to send alerts to WEA, which can reach any cell phone within a geographic area, and EAS, which allows users to set a screen crawl across TV screens for local TV stations. The goal is to provide organizations with the best possible options to reach everyone about critical emergency events. Utilizing these two methods helps extend InformaCast notifications beyond devices that are connected to the system.
"The effectiveness of a message is directly tied to how many people see it," said Scheckel. "Organizations can now reach people even if they are not InformaCast users by utilizing public broadcast methods to share alerts."
The IPAWS functionality is different than standard InformaCast notification methods as it requires approval from FEMA to use. Organizations using InformaCast need to be recognized as an authorized Coordinating Operating Group (COG) by FEMA. This authorization is typically only granted to organizations involved with public safety, such as universities, police, sheriff, and state emergency management offices. Once authorized, a COG can use the IPAWS functionality within InformaCast to send Amber Alerts, Evacuation Notices, Shelter In Place, Silver Alerts, and other relevant emergency notices. Those alerts are typically limited geographically to only send to devices within the county the COG is located.
To learn more about how organizations can use InformaCast and IPAWS for mass notification, visit https://www.singlewire.com/blog/emergency-notification/ipaws.
About Singlewire Software
Singlewire Software, based in Madison, Wis., is the developer of InformaCast, a leading software solution for fast and reliable emergency notifications. More than 7,000 organizations in over 50 countries use InformaCast for emergency mass notifications. Whether it's an active shooter, severe weather, or another crisis situation, InformaCast helps reach the right people, with the right information, to increase awareness, safety and security. To learn more, visit http://www.singlewire.com/informacast.
###