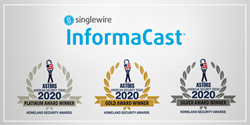 "These awards highlight the innovation of our solutions and safety benefits they offer organizations that implement our InformaCast Fusion software." - Pat Scheckel
MADISON, Wis. (PRWEB) December 17, 2020
Singlewire Software, a leading mass notification technology developer, has won three 2020 ASTORS Homeland Security Awards from American Security Today. InformaCast Fusion with Microsoft Teams from Singlewire Software won a Platinum Award for Best Mass Notification System, InformaCast Fusion with CallAware won a Gold Award for Best 911 Recording and Analytics, and InformaCast Fusion won a Silver Award for Best Risk, Crisis Management Product. The award program recognizes outstanding innovations of top firms and agencies in the homeland security and public safety fields.
"The threats and safety challenges organizations face continue to evolve with each passing year," said Pat Scheckel, executive vice president of product management for Singlewire Software. "These awards highlight the innovation of our solutions and safety benefits they offer organizations that implement our InformaCast Fusion software."
InformaCast Fusion is a mass notification system that reaches on-premises and mobile devices with critical safety information. Text and audio can be sent to IP phones, IP speakers, digital signage, desktop computers, mobile devices and collaboration tools like Microsoft Teams to help reach the widest audience possible with alerts that impact their safety. InformaCast Fusion can be used to prepare for and manage crisis events related to the ongoing pandemic, active shooters, severe weather, and any other threatening situation an organization may face. It can even be configured to send alerts when someone dials 911 from within a facility. With the push of a button, notifications can reach everyone with the updates they need to stay out of harm's way.
"Today, the United States is increasingly focusing on protecting public spaces, as well as IT/cyber security networks and they are calling on innovative companies like Singlewire Software to help them do so," said Tammy Waitt, co-founder and editorial director of American Security Today.
This is the third year in a row that Singlewire Software has been recognized in the ASTORS Awards. For more information about how InformaCast can enhance safety and communication, visit http://www.singlewire.com/informacast.
About Singlewire Software
Singlewire Software, based in Madison, Wis., is the developer of InformaCast, a leading software solution for fast and reliable emergency notifications. More than 7,000 organizations in over 50 countries use InformaCast for emergency mass notifications. Whether it's an active shooter, severe weather, or another crisis situation, InformaCast helps reach the right people, with the right information, to increase awareness, safety and security. To learn more, visit http://www.singlewire.com/informacast.
About American Security Today
American Security Today (AST), the "New Face in Homeland Security," is the premier digital media platform in the U.S. Homeland Security and Public Safety industry, focused on breaking news and in-depth coverage of the newest initiatives and hottest technologies in physical & IT security on the market today. AST highlights the most cutting-edge and forward-thinking security solutions across a wide variety of media products delivered daily, weekly and monthly to over 75,000 qualified government and security industry readers, essential to meeting today's growing security challenges to "Secure our Nation, One City at a Time." For more information, visit https://americansecuritytoday.com/.
###