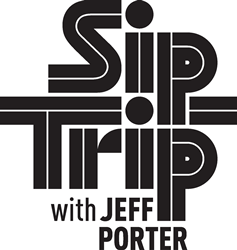 "It's been my dream to share the incredible experiences I've had ─ visiting Italy's leading wineries, meeting the wonderful families behind the wines, exploring the culture and history of these beautiful regions ─ with all of my American friends and family." - Jeff Porter
NEW YORK (PRWEB) November 07, 2019
Co-producers Jeff Porter, VinePair (vinepair.com), I.E.E.M. (ieemusa.com) and Colangelo & Partners (colangelopr.com) announce today the debut episode of 'Sip Trip with Jeff Porter,' (siptripitaly.com) a culinary road trip through Italy with one of America's most beloved Italian wine experts, sommelier Jeff Porter. Sip Trip launches on VinePair's social media channels including YouTube, Facebook and Instagram. The show, which is entirely shot on location and will be composed of 14 episodes in its first year, features over 40 of Italy's top wineries and most prestigious wine regions.
"It's been my dream to share the incredible experiences I've had ─ visiting Italy's leading wineries, meeting the wonderful families behind the wines, exploring the culture and history of these beautiful regions ─ with all of my American friends and family," says Jeff Porter. "For me, Sip Trip is a dream come true." Jeff traveled from the Dolomites in northern Italy, drinking Trentodoc wines and snowshoeing through Alpine valleys, to the slopes of Mt. Etna in Sicily, over 10,000 miles in total.
"Sip Trip is a new way to experience wine and culture, and Jeff is the ideal host," explains Adam Teeter, co-founder and CEO of VinePair. "The format is fun, fast-paced and experiential. Our readers will be able to viscerally experience the beauty and culture of Italy as well as Italian food and wine through the show." VinePair, the most trafficked wine, beer and spirits website in the world, boasts 5 million unique monthly visitors and a reach of 32.4 million Millennials and Gen Xers per month through all of their web and social channels.
Jeff made four visits to Italy over the course of one year to film Sip Trip, accompanied by two different sommelier friends on each trip along with director Rob Martinez, a journalist from VinePair and a local Italian film crew. "The concept for Sip Trip is straightforward: I travel with friends to Italy's greatest wineries and wine regions, drink great wine, interview interesting people and explore the culture and history of Italy. What could be better than that?" explains Jeff. The tone of Sip Trip is fun and informative. Jeff and friends tell compelling stories of great wines, estates and regions in their historical and cultural context while avoiding technical wine jargon and repeated shots of swirling wine glasses.
"Americans love Italy and Italian wine but don't necessarily have the opportunity to explore the places Jeff visited and get to know the people he met," says Marina Nedic, founding partner of I.E.E.M. "Sip Trip will allow viewers to vicariously experience these beautiful places and leading Italian wine personalities."
The Italian road trip will be bookended by a trip across America by Jeff and somm friends during which he'll drink the great wines he tasted in Italy with more sommeliers in the US. "We want to share our love for Italy and Italian wine with as many wine industry pros and wine enthusiasts as we can touch, whether in a tasting or digitally," said Gino Colangelo, owner of Colangelo & Partners. "Jeff is perfect for this. He knows what he's talking about technically and he can speak to wine lovers at all levels of knowledge."
Participating Wineries and Wine Marketing Organizations
Allegrini, Argiano, Argiolas, Brancaia, Cà del Bosco, Cantina Santadi, Castello di Monsanto, Ciù Ciù, Col d'Orcia, Col Vetoraz, Colpetrone, Consorzio Vino Chianti Classico, Consorzio del Vino Brunello di Montalcino, Consorzio Tutela Lugana D.O.C., Consorzio dell'Asti D.O.C.G., Consorzio Barbera d'Asti e Vini del Monferrato, Famiglia Cotarella, Fontanafredda, Gagliole, Giovanni Rosso, Graci, Jermann, Masi, Mastroberardino, Michele Chiarlo, Mionetto, Pertinace, Pieropan, Pio Cesare, Planeta, Primosic, Produttori di Manduria, Renato Ratti, Rocca di Frassinello, Roeno, Sella e Mosca, Tasca d'Almerita, Tenuta Sant'Antonio, Tommasi, Tornatore, Torre a Cona, Trento D.O.C., Umani Ronchi, Zenato.
About Jeff Porter
Originally from Texas, Jeff's passion for wine started while at the University of Texas at Austin. He began his career at Central Market in Austin, Texas. After graduating, Jeff moved to California where he worked as a salesperson for a wholesaler in the Bay Area. His sommelier career began in Napa Valley working at Tra Vigne Ristorante in St. Helena, California. He joined the Bastianich Hospitality Group in 2009 at Osteria Mozza. In 2011 he moved to New York to become the wine director for Del Posto, and in 2014, Jeff became the Beverage Operations Director of the B&B Hospitality Group, overseeing the beverage programs for Babbo, Del Posto, Esca, Lupa, Otto, Babbo Pizzeria & Enoteca in Boston. Most recently, Jeff has joined forces with famed pit master Billy Durney to introduce an all-natural wine program to the Hometown BBQ restaurants in Brooklyn and Miami as well as the newly minted New York Times 1-star restaurant, Red Hook Tavern.
About VinePair
VinePair is the largest digital media company delivering accessible, entertaining, and inspiring content about drinks and the experiences you have with a glass in hand.
About I.E.E.M.
I.E.E.M.: (International Event & Exhibition Management), the Miami-based branch of I.E.M. (International Exhibition Management), is a comprehensive agency specializing in marketing, events production and public relations for the wine industry. Driven by a passion for trade shows and a flair for flawless organization, I.E.M. was founded in 1999 by industry veterans Giancarlo Voglino and Marina Nedic. A reputation for reliably delivering high-quality events, coupled with its extensive network of wine trade professionals and international media, places IEEM/IEM among the most highly regarded Italian wine event organizers in the world. Learn more by visiting http://www.ieemusa.com.
About Colangelo & Partners
Colangelo & Partners (http://www.colangelopr.com) specializes in premium food, wine and spirits, and has long established relationships with the key press that drive these business categories and help determine the industry leaders. Agency principals have years of experience in retail and distribution as well as communications, a rare combination that gives Colangelo & Partners invaluable insights into consumer purchasing behavior. The agency focuses on 'closing the loop' between creative communications programs, distribution, promotion, publicity and the consumer in order to maximize the efficiency of its communications programs and deliver measurable results. Founded in 2006, Colangelo & Partners was honored as one of the year's top integrated communications firms at the 2013 Agency Elite Awards and for one of the best digital marketing campaigns at the 2014 Digital PR Awards.