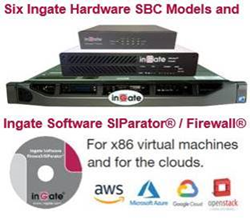 Ingate SBCs come as six hardware models, as virtual machine software and for the public cloud platforms
FORT LAUDERDALE, Fla. (PRWEB) February 12, 2020
Ingate® Systems unveils three new midrange session border controllers (SBCs): the Ingate SIParator®/Firewall® 22 (the S22), the Ingate SIParator/Firewall 42 (S42) and Ingate SIParator/Firewall 82 (S82) at the ITEXPO show starting today.
"Ingate session border controllers are powerful solutions that scale up easily to support growth," said Steve Johnson, General Manager, Ingate Systems. "They now come as six hardware models, as virtual machine software and for the public cloud platforms."
The S22 replaces the SIParator/Firewall 21, with a smaller footprint and twice the capacity. It can handle up to 800 simultaneous VoIP sessions. The 19" rack mount kit is now a tray where two S22 units can be mounted side-by-side, occupying only 1U of space.
The new S42 model replaces Ingate´s S52 model, at the same price, with same or better performance and features, while the S82 has about twice the performance and close to Ingate's S95 server-based SBC, specified at handling 4000 concurrent sessions with voice media.
An updated brochure presents features and data of all Ingate's SIParator® / Firewall® range of Session Border Controllers.
Ingate's SIParator/Firewall SBC is available as one of six hardware models, as various software variants for virtualized x86 hardware for your own virtual machine or for a public cloud platform: Amazon Web Services (AWS), Microsoft Azure, OpenStack and Google Cloud Platform.
All SBC Features of the 6.2.x – 6.3.x Releases are Available in All Variants of the Ingate SIParator/Firewall SBCs.
High-performance voice transcoding (125 to 3000 sessions for G.729 and G.722) is now included as standard and Opus and Silk have been added and specifications are found in the updated brochure.
The Call Control REST API in the Dial Plan was presented in the March newsletter and allows integration with external web services during call processing. This enables easy integration with applications such as routing based on number portability, least-cost routing, no call compliance and call capacity per DNIS for inbound campaigns among many other possibilities.
Ingate SBCs enable secure SIP communications. They connect the widest range of PBX and Unified Communications (UC) solutions to virtually any ITSP offering SIP trunks. They can be upgraded to support upcoming WebRTC-related services.
For more information, contact sales@ingate.com or download the Ingate product brochure here. Learn more by visiting Ingate at ITEXPO at booth 100.
About Ingate® Systems
Ingate® Systems develops, manufactures and sells firewall technology to enable global SIP- and WebRTC-based person-to-person communication to provide the best access for telephony, global real-time and unified person-to-person communication for everyone. With a history in security, Ingate offers enterprises, service providers and carriers with elegant solutions for SIP trunking and trusted real-time communications beyond the LAN. Ingate products are used by retail companies, medical facilities, financial institutions, call centers, industrial firms, government agencies and small-to-large enterprises throughout the world. Read more about Ingate session border controllers here.