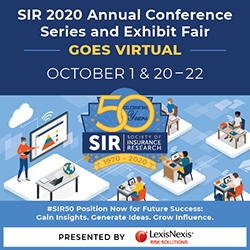 Though the format will be new and different, we plan on offering the same engaging content and networking opportunities that people have come to expect from SIR events.
MINNEAPOLIS (PRWEB) August 11, 2020
The Society of Insurance Research (SIR) recently conducted a survey to learn how the COVID-19 pandemic was impacting business travel, potential conference attendance, staffing, budgets, work from home (WFH) arrangements, professional development, and professional membership plans. We found that most respondents (60%) indicated their companies implemented travel restrictions indefinitely. About 16% indicated their travel restrictions went through the end of year or no date had been set. Only 10% of respondents were comfortable travelling nationally and 73% expected travel budget reductions. When we asked about conference preferences, 54% preferred virtual events.
Given these findings, the Society of Insurance Research (SIR) is happy to announce their 50th Annual Conference Series presented by LexisNexis Risk Solutions on October 1st and October 20th – 22nd will be virtual! Insurance professionals seeking to advance their business and profession through cutting edge research and networking with leaders and influencers are invited and encouraged to attend.
Jen Evert, SIR's President, said "Though the format will be new and different, we plan on offering the same engaging content, world-class exhibitors and great networking opportunities that people have come to expect from SIR events. We hope this new format will give many more people the opportunity to participate and learn from fellow insurance researchers. It will be a new and interesting way to celebrate SIR's 50th year!" The theme for this year's event is "#SIR50 Position Now for Future Success: Gain Insights. Generate Ideas. Grow Influence". In 10 years, the insurance industry will not look like it does today. Customers expect a new experience that meets them where, when and how they decide. New technology and data are transforming the dynamics of this experience and competitive pressures arising from these changes are forcing carriers to re-examine the foundations of their business models. Who will emerge as a leader in this new future? You can help guide the industry perspective. The SIR provides a forum to our members to exchange ideas and best practices to support key decision-making processes within their respective organizations. We have stood by our members in this mission and supported them over five decades.
Attendees will have the flexibility to participate as much or as little as they desire. Our first day of the conference series will be on October 1st and will focus on COVID-19's impact and insurer response. Day 2, Oct 20th will highlight personal lines topics. Day 3, Oct 21st will feature life and health insurance. Day 4, focus on commercial lines.
Daily keynotes from AF Group, USAA, Allstate and Fifth Third Bank and many great speakers from American Family, Amerisure, BCBS South Carolina, Bold Penguin, Clearcover, Hippo, Mass Mutual, Prudential, Western and Southern, The Zebra and more!
To accommodate SIR members from across the country, the conference will take place daily 11 AM - 4 PM ET. There will also be plenty of opportunities to network and visit virtual exhibit booths during scheduled coffee breaks and virtual happy hours in addition to many breaks throughout the day. See the agenda for more details!
Top 5 reasons to attend this conference:
1. The theme is compelling, relevant and timely!
2. SIR is a carrier-led association that serves insurance research professionals!
3. No speed dating! Develop real, lasting professional relationships!
4. SIR exhibitors are best in class and provide relevant solutions to advance your business!
5. This is not a fly-by-night event! It's SIR's 50th conference and you won't want to miss it!
Bonus! There's no travel cost and it's safe!
To view the full agenda for the SIR Annual Conference please visit the conference website. To register, please click here.
About the Society of Insurance Research (SIR):
The Society of Insurance Research was founded in 1970 to provide a forum for the free exchange of ideas in all areas of insurance research. It has expanded to marketing and planning, as well as research. The Society includes representation from many different organizations; insurance and non-insurance companies, government agencies, institutions of higher education, and trade associations. The individual Members come from equally divergent areas such as actuarial, agency, claims, consumer relations, corporate planning, education, financial planning, government relations, management consulting, information services, marketing and sales, modeling, operations, product development and analysis, reinsurance, risk management, statistical research and underwriting.
If you would like more information, please visit the SIR's website as well as LinkedIn, Twitter, Facebook and YouTube.