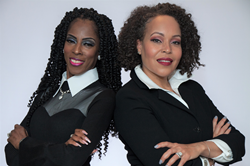 When someone calls on Caring Transitions, they instantly become part of our family. Our hearts are open, we are here to help, and we promise to always Find a Way, Make a Way, for our clients. - Kim Bigby
PORT JEFFERSON, N.Y. (PRWEB) March 11, 2021
Sisters Kimberley Bigby and Happie Dunn-Henry know what it's like to move and clear out the house of a loved one, especially when it has to be done quickly and unexpectedly. Now they are looking forward to combining their personal experience with their business backgrounds to launch their own business – Caring Transitions of Port Jefferson.
Caring Transitions is the professional and compassionate solution for senior moves, downsizing and online estate sales. Caring Transitions' specially-trained professionals can handle every detail of a transition, including decluttering, cleanouts, packing, move management, unpacking, resettling, and both in-home and online estate sales. Caring Transitions of Port Jefferson serves Centereach, Coram, East Setauket, Middle Island, Miller Place, Mt. Sinai, Port Jefferson, Port Jefferson Station, Rocky Point, Selden, Shoreham, Sound Beach and the surrounding areas.
Caring Transitions' services are perfect for managing the many aspects of a senior move, including assisting with the process of downsizing to provide a safer living situation, as well as for busy families and people clearing out the home of a loved one who has moved into assisted care or passed away. All of Caring Transitions' services are customizable, so clients choose the solution that best fits their needs.
"Situations like these can be overwhelming and stressful, especially if you don't have family to lean on during your time of need. We want to be part of your family, hold your hand and guide you through the process. Think of us as your personal GPS helping you get to your next destination," Kim said.
"Our job is more than packing boxes. We are here to be a support system. We want to take that stress away from you so it's not weighing you down," Happie added.
Kim and Happie have quite a bit of experience in moving loved ones and quickly clearing out homes – they moved Kim's mom multiple times and then recently cleared out her home in California when she passed. They also helped clear out Happie's dad's apartment and houses and recently cleaned out her brother's house after he died.
"We've gone through what our clients are facing and we've helped many friends and family get through it as well. From packing boxes to inventorying belongings to clean outs, we've done it all and we understand, firstly, how challenging those situations can be and, secondly, how to get it finished quickly, efficiently and compassionately," Happie said.
Their business backgrounds will also come in handy as they embark on this new journey together. Happie has honed her customer service skills as a flight attendant for almost 20 years and, before that, she spent 16 years with the United States Military Academy at West Point, utilizing her organizational skills working in various offices including the Protocol Office where she developed and executed second by second itineraries for onsite and visiting dignitaries and events. Kim's background has been in corporate accounting, investments and, most recently, as the Chief Administrative Officer for the Controller at a national insurance company where she was responsible for budgeting, space planning, staffing, and a host of other duties.
"We've always said a person should have two careers – the one you have to do and the one that feeds your soul. We are excited to launch Caring Transitions because this is the path that will feed our souls. When someone calls on Caring Transitions, they instantly become part of our family. Our hearts are open, we are here to help, and we promise to always Find a Way, Make a Way, for our clients," Kim said.
Caring Transitions of Port Jefferson is bonded and insured and all employees are background checked. For additional information, call 631-880-5300, email KBigby@CaringTransitions.com or HHenry@CaringTransitions.com, or visit http://www.CaringTransitionsPortJeff.com.