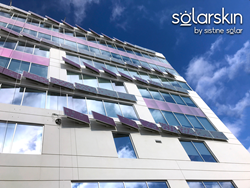 The breakthrough that solar can be customized to any look and feel has opened up interest across the board, from Fortune 500 brands to small businesses
SOMERVILLE, Mass. (PRWEB) September 21, 2020
Sistine Solar today announced the world's first custom-branded solar projects made possible by its patented SolarSkin technology. A 56KW branded solar rooftop at the WhistlePig distillery in Vermont and a 43KW multi-colored solar façade on the MoZaic East building in Minneapolis both utilized SolarSkin technology to showcase the integration of original branding and artwork with solar.
SolarSkin is a fully customizable graphic overlay that can be imprinted with any artwork and applied to any solar module. It enables businesses to go solar while celebrating their commitment to sustainability in a visual way by infusing original artwork, brand colors, logos, etc. Premium rye whiskey brand, WhistlePig, employed SolarSkin to showcase its iconic logo set against a rustic backdrop of whiskey barrels (for stunning aerial footage, please see video here). Leading real estate firm, The Ackerberg Group, on the other hand, utilized SolarSkin as an architectural element to color its solar panels in varying shades of the purple hue of its LEED Gold certified MoZaic East building.
"Both of these projects were made possible by the unparalleled aesthetic versatility and efficiency of SolarSkin, the only tech in the market that can achieve any color or design while registering the highest efficiencies among aesthetic solar solutions," said Senthil Balasubramanian, CEO of Sistine Solar. "I am proud of the work our team did to make these groundbreaking designs possible, as well as of our collaborations with visionary installers Same Sun of Vermont and All Energy Solar on the respective projects. What would otherwise have been cookie cutter blue solar panels were transformed into an artist's canvas that sparkle with creativity."
"The WhistlePig array was an intricate one that involved creating 66 different designs and stitching them together for an end product that is instantly eye-catching from the balcony of the tasting gallery next door," said Anthony Occidentale, VP of Product at Sistine Solar. "For the MoZaic East project, we partnered with architectural firm, Alliiance, to create 24 different patterns with varying gradients of purple that mixed together to work harmoniously with the color-shifting nature of the façade material."
Solar as a branding medium is a new offering pioneered by Sistine Solar that is expanding the market for solar. According to the Solar Energy Industries Association, US businesses had installed approximately 7GW of solar by 2018. Yet, that only amounts to less than 1% of the total electricity generation in the country. "These two projects are dramatically changing how customers perceive solar," said Balasubramanian. "On a daily basis, we are seeing growing demand for SolarSkin from very wide-ranging sectors – airports, car dealerships, theme parks, universities, large-scale carports, sports stadiums, to name just a few. The breakthrough that solar need not be monochromatic and can be customized to any look and feel has opened up interest across the board, from marketing departments at Fortune 500 companies to local small business owners."
For more information, or to place an order for customized SolarSkin for your business, please visit here.
About Sistine Solar:
Sistine Solar is a venture-backed Boston-based startup founded by MIT alums. Its flagship technology, SolarSkin, is a patented aesthetic overlay that transforms the look of any solar panel. It can make the panel blend in with a homeowner's roof—no matter what color, pattern, or style. Or it can convert it into a branding asset for businesses, an advertising medium for marketers, signage for street furniture, a canvas for an artist—the possibilities are endless. SolarSkin was developed with the support of a $1million DOE SunShot award, has been deeply tested for long-term durability at the National Renewable Energy Lab, and has been deployed in installations in 16 states around the country. For more, please visit https://www.sistinesolar.com.
Contact: Senthil Balasubramanian, press@sistinesolar.com, 857-293-1439