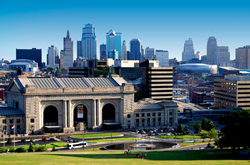 "We're thrilled to be recognized as a leading metro for future corporate development projects," said Tim Cowden, president and CEO, Kansas City Area Development Council.
KANSAS CITY, Mo. (PRWEB) July 28, 2020
The Kansas City region was named one of the Top Mid-Size Cities for New Projects in a survey from the Site Selectors Guild (SSG), conducted last month.
Sixty-one percent of SSG respondents indicated site selection projects are proceeding amid COVID-19. This comes as Kansas City is seeing an influx of e-commerce and distribution, food and beverage, data center/IT, and sustained ag and biotech deals – four of the top five industries identified in the survey.
In Kansas City, distribution projects are up 25% and manufacturing projects are up 21% from the same time in 2019, according to the Kansas City Area Development Council (KCADC). The number of bioscience projects remains similar, though area officials expect to see sustained growth as health care dominates the global conversation.
"We're thrilled to be recognized as a leading metro for future corporate development projects," said Tim Cowden, president and CEO, KCADC. "As COVID-19 continues to reshape the global marketplace, the Kansas City region is leading the charge in meeting the needs of today's companies."
Since the outbreak of COVID-19, the organization has helped locate prominent employers, including a 600-person operations center for "A Place for Mom," as well as manufacturing facilities for Dot's Pretzels and Tuthill Corporation, among others.
KC SmartPort, a nonprofit economic development organization and part of KCADC, has helped close supply chain-related deals surpassing $1.1 billion in capital investment, 4,343 jobs, $174 million in payroll and more than 8.8 million square feet of industrial space in the last three years.
Kansas City also leads in food and beverage production, ingredient manufacturing, cold storage and other food-related supply chain activities. More than 600 food and beverage companies employing 25,000 call the area home – creating a $226 billion industry with proximity to agriculture markets and access to 85% of the U.S. population in two days or less by truck.
The KC Animal Health Corridor, a strategic initiative of KCADC, represents the world's largest concentration of animal health companies, accounting for 56% of the total worldwide animal health, diagnostics and pet food sales. The corridor, coupled with Kansas City's agriculture legacy, makes the region a prime location for ag and bio tech, with the National Bio and Agro-Defense Facility and the U.S. Department of Agriculture's (USDA) Economic Research Service and National Institute of Food & Agriculture operations being major players.
New software and information technology (IT) projects continue to rise. The region's data center attributes enable leading companies to provide services in data storage, insurance, finance, life sciences and other industries. A new, and recently approved, 882-acre data center complex anticipates as much as 6.75 million square feet of new construction, spanning 13 buildings in Kansas City's Northland section. The facility will play a key role in luring more business to the region.
"The Kansas City region has always competed at the highest level, said Jill McCarthy, senior executive of corporate attraction, KCADC. "The endorsement from the Site Selectors Guild reinforces our community's competitive advantage across several growing industry sectors."
About Greater Kansas City
Home to 2.5 million people, Kansas City is a vibrant metro in the heart of the U.S., known as "KC Heartland." KC is a center for technology, entrepreneurship and artistry, ranking first in the nation for its startup growth rate. Visit KC.org and follow @KCHeartland for more details.
About KCADC
The Kansas City Area Development Council serves the 18-county, two-state Kansas City area by marketing the region's business and lifestyle assets to companies around the world. Working closely with its 50-plus state, county and community partners, the region has attracted more than 60,000 new jobs over its 40-year history. KCADC also leads the efforts behind the KC Animal Health Corridor, KC SmartPort and TeamKC. thinkKC.com.