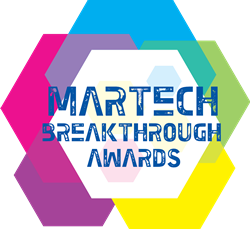 "In an extremely crowded MarTech market, Sitecore breaks through the clutter by empowering brands all over the world to create stronger connections with their customers" - James Johnson, Managing Director, MarTech Breakthrough
LOS ANGELES (PRWEB) September 23, 2020
MarTech Breakthrough, a leading market intelligence organization that recognizes the top companies, technologies and products in the global marketing, sales and advertising technology industry, today announced that Sitecore®, the global leader in digital experience management software, has been selected as the winner of the "Best Overall Content Marketing Solution" award in the third annual MarTech Breakthrough Awards program.
Sitecore's Digital Experience Platform (DXP) helps brands amplify the impact of digital experiences by orchestrating content, personalization, commerce, and customer data into insights that help build emotional connections with customers.
Sitecore helps create these connections for many of the world's largest and most respected brands, such as American Express, L'Oréal and Volvo Cars. The company serves more than a third of the Fortune 100 and nearly half of the S&P Global 100 in industries including healthcare, financial services, retail, automotive and manufacturing.
"In an increasingly all-digital customer journey, many consumers today feel companies have lost touch with the human element of customer experience," said Paige O'Neill, CMO at Sitecore. "To reconnect with customers, something more important than ever given the pandemic, brands need to make every individual feel like a preferred customer. To do this, they need a digital experience platform that will nurture customers throughout their journeys – from the first communication – all the way through a commerce transaction. This is what Sitecore aims to do, and we're thrilled this award acknowledges that."
Sitecore recently announced Sitecore Experience Platform™ (XP) 10 and Sitecore Experience Commerce® (XC) 10. XP 10 is the leading digital experience platform to create efficiencies for both marketing and IT departments by delivering full container support for rapid deployment and more efficient team and solution onboarding, while XC 10 provides a foundation for commerce teams with new product bundling and promotion capabilities. The company also recently announced Sitecore Content Hub™ 3.4, which offers enhanced Digital Asset Management (DAM), including smarter management of images and video.
The mission of the MarTech Breakthrough Awards is to honor excellence and recognize the innovation, hard work and success in a range of marketing, sales and advertising technology related categories, including marketing automation, market research and customer experience, AdTech, SalesTech, marketing analytics, content and social marketing, mobile marketing and many more. This year's program attracted more than 2,750 nominations from more than 15 different countries throughout the world.
"In an extremely crowded MarTech market, Sitecore breaks through the clutter by empowering brands all over the world to create stronger connections with their customers," said James Johnson, Managing Director at MarTech Breakthrough. "Sitecore customers from B2B companies to global household brands leverage the company's portfolio of customer experience solutions to maximize the use of their content and manage and deliver personalized experiences across global and regional sites, and digital channels. With their incredibly powerful and wide reach, we are proud to recognize Sitecore with our 'Best Overall Content Marketing Solution' award as part of the 2020 MarTech Breakthrough Awards program."
####
About MarTech Breakthrough
Part of Tech Breakthrough, a leading market intelligence and recognition platform for global technology innovation and leadership, the MarTech Breakthrough Awards program is devoted to honoring excellence in marketing, ad and sales technology companies, products and people. The MarTech Breakthrough Awards provide a platform for public recognition around the achievements of breakthrough marketing technology companies and products in categories including marketing automation, AdTech, SalesTech, marketing analytics, CRM, content and social marketing, website, SEM, mobile marketing and more. For more information, visit MarTechBreakthrough.com.