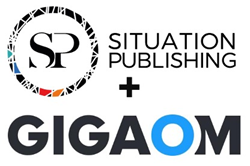 The combined force of Situation Publishing and GigaOm builds on our joint commitment to technical teams the world over
SAN FRANCISCO (PRWEB) February 10, 2021
Situation Publishing, the publisher of Enterprise Technology news and analysis web sites The Register, The Next Platform, Blocks and Files and DevClass has announced that it has joined forces with analyst firm Gigaom to provide Vendors and IT professionals with market leading insights into Enterprise IT buyers.
Situation Publishing's portfolio of Enterprise Tech news is read by millions of Enterprise IT practitioners across the globe. Gigaom's analyst expertise will harness invaluable insight from this engaged audience.
Philip Mitchel: CEO of Situation Publishing said "The combined force of Situation Publishing and GigaOm builds on our joint commitment to technical teams the world over and furthers our aim to help organizations make smarter decisions about their technology investments."
"At Gigaom, we believe every business can innovate and move at the speed of the market," said Ben Book, CEO of Gigaom, the analyst firm enabling smart businesses to future-proof their decisions. "Situation Publishing shares our passion for providing practical, no-nonsense insights for technical teams. We are pleased to be working with them to deliver research enterprises can use to make the right investments for their business."