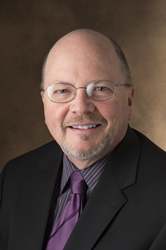 "I'm honored that the commissioners have placed their trust in me to carry on their work in this capacity."
EDWARDSVILLE, Ill. (PRWEB) November 09, 2020
Southern Illinois University School of Dental Medicine (SDM) Dean Bruce Rotter, DMD, has been elected vice chair of the Commission of Dental Accreditation (CODA), the national programmatic accrediting agency for dental and dental-related education programs at the post-secondary level.
Rotter has been a CODA site visitor for several years. He recently completed his second year on the Board of Commissioners, where he has served on a variety of committees and chairs the predoctoral review committee.
"I'm honored that the commissioners have placed their trust in me to carry on their work in this capacity," said Rotter, who will serve a one-year term. "I will continue to chair the predoctoral review committee. I will also serve on several other CODA committees and support the commission chair as needed."
CODA employs a rigorous, collaborative peer review accreditation process to evaluate the quality of more than 1,400 dental and dental-related programs. These programs include predoctoral (DDS/DMD) dental education programs, advanced dental education programs and allied dental education programs.
"Since Southern Illinois University sponsors dental and advanced dental education programs accredited by CODA, my work on the Commission helps strengthen my understanding of this process, so that I can better lead the SIU School of Dental Medicine," Rotter said.
The SIU School of Dental Medicine manages approximately 35,000 patient visits each year at its patient clinics in Alton and East St. Louis. In addition, students offer oral health treatment, screenings and education to more than 10,000 people annually through a wide variety of off-campus community outreach events. These opportunities provide students the training they need to graduate and become highly skilled dentists. The School of Dental Medicine is a vital oral health care provider for residents of southern and central Illinois, and the St. Louis metropolitan region.