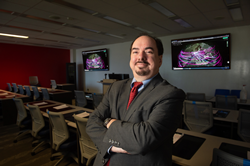 "Various threats, such as denial of services attacks, ransomware, phishing, and cryptojacking are all on the rise. Our program deliberately emphasizes a combination of business and technology skills while offering industry standard certification opportunities."
EDWARDSVILLE, Ill. (PRWEB) September 29, 2020
There is a global shortage of cybersecurity professionals, according to the 2019 National Institute of Standards and Technology (NIST) Workforce Demand Report, including more than 25,000 unfilled cybersecurity jobs in Illinois and Missouri alone.
To meet this critical demand, Southern Illinois University Edwardsville's School of Business has launched a new undergraduate cybersecurity specialization.
"The School of Business recognizes how critical cybersecurity has become for businesses of all sizes," said Tim Jacks, PhD, associate professor and computer management and information systems (CMIS) undergraduate program director. "Various threats, such as denial of services attacks, ransomware, phishing, and cryptojacking are all on the rise. Our program deliberately emphasizes a combination of business and technology skills while offering industry standard certification opportunities."
Curriculum for the new specialization has been developed by the Department of CMIS following rigorous guidelines published by the Joint Task Force on Cybersecurity Education, the IEEE Computer Society, and the Association for Information systems (AIS). To ensure real-world relevancy of coursework, the department is also leveraging strategic partnerships with local law enforcement, the FBI, Scott Air Force Base, and the Gateway Higher Education Cybersecurity Consortium (GHECC).
Students specializing in cybersecurity will take required coursework in information security while having the opportunity to select electives such as security and analysis, IT audit and control, ethical hacking and penetration testing, and cybercrime. Throughout the program, students will be provided with industry certification opportunities such as Security+, Certified Ethical Hacking, and Certified Information Systems Security Professional.
To provide students with immersive, hands-on cybersecurity experiences, the program offers a unique cyber classroom that emulates a Network Operations Command Center (NOCC). The Ralph and Donna Korte Cyber-Analytics Classroom makes use of large, flat-paneled monitors to display lecture slides, software demonstrations, and real-time dashboards of cyber incidents occurring around the world. A rack of functioning telecommunications equipment provides students with the experience of seeing how firewalls, routers and servers interact and physically connect.
"Having a dedicated space sends a clear signal of how important this is for the School and our students," said Jacks. "We intend to educate the next generation of students that will protect businesses and keep them operational and safe. These future cybersecurity professionals will enter the workforce having had immersive, interactive learning experiences."
The Department of Labor forecasts 0% unemployment in the cybersecurity industry in the next 5-7 years. Students completing a bachelor's in business administration with the cybersecurity specialization will be prepared for entry level positions such as security analysis, security operations, incident response, IT auditing, security provisioning, and threat detection.
For more information, visit siue.edu/business-administration.
SIUE's School of Business and the accountancy programs are accredited by the Association to Advance Collegiate Schools of Business International, representing the highest standard of achievement for business schools worldwide. The Princeton Review lists SIUE as one of the top 252 business schools in the U.S. for the 13th consecutive year. Undergraduate degrees are offered in accountancy and business administration, with specializations in computer management and information systems (CMIS), economics, entrepreneurship, finance, human resources, international business, management and marketing. Graduate degrees include accountancy, business administration, CMIS and marketing research, with specializations in tax, project management and business analytics. More than 26,000 alumni have earned degrees from the SIUE School of Business. For more information about the School of Business, visit siue.edu/business.