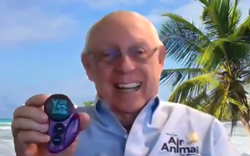 "The state of international pet moving in September 2020 is all about capacity. It's about air cargo space on both passenger and special freight flights, and staff availability at the animal receiving centers throughout the world."--Walter M. Woolf, VMD Air Animal Founder and Veterinarian
TAMPA, Fla. (PRWEB) September 17, 2020
Six months after COVID-19 closed much of the world, pets are moving internationally. Still, everything old is new again, according to Walter M. Woolf, veterinarian founder of Air Animal Pet Movers.
"This is a way back machine I never really thought we'd need again. It's called a Yak Bak and was given to me decades ago as a holiday gag gift when we started moving pets. The Yak said, 'Unfortunately Air Animal does not control the weather, set the airline schedules, make the rules or fly the planes. How may we help you?'
"Back then, our clients were anxious, stressed and concerned because professional pet moving was a new service. Now, our clients are anxious, stressed and concerned about moving their pets during a global pandemic.
"In June 2005 Air Animal received 7,500 calls because the USA implemented the Safe Animal Transportation Act. Then one of the major airlines stopped taking pets. I had been the chairperson of the advisory task force to the Congressional joint resolutions committee responsible for reconciling the House and Senate versions before the act passed. The law was and continues to be the cornerstone keeping pets safe during air transport. Over time the number of pets relocating internationally with their owners skyrocketed. The state of international pet moving in September 2020 is all about capacity. It's about air cargo space on passenger and special freight flights. And it's about staffing at animal receiving centers throughout the world," Woolf said.
The United Kingdom's main pet import center at Heathrow airport has limited the number of pets that can arrive each day because COVID-19 is challenging their staffing. When a staff member becomes ill, contact tracing means several colleagues must quarantine as well. Because pet air cargo flights can only be scheduled two weeks ahead, the incoming slots at Heathrow are often already full. The situation requires a lot of back and forth for pet move managers, receiving center staff and relocating pet owners. This story is repeated at pet import centers around the world.
"We understand that cancelled flights, cancelled pet bookings, rescheduling travel and continually changing agendas are very frustrating. We always work with relocating pet parents to make sure their pets reach their new homes safely even though neither they nor Air Animal's dedicated pet move managers control pandemic lock-downs, weather or airline schedules.
"Air Animal's experienced pet move managers and client services team deal with the details so our clients don't have to," said Cory Robinette, Air Animal chief operating officer.
Since March, Air Animal's Florida-based team and trusted service partners have moved nearly 400 pets around the globe. Where to? Well, the UK, Ireland, the EU, South Africa, Singapore, China, Japan, Australia, New Zealand, Hawaii, the Caribbean islands, and Central and South America--to name just a few. They move pets across the USA using a network of professional ground transporters. Air Animal posts detailed information on many destinations under the resource menu at airanimal.com.
"We appreciate our clients' understanding, their patience and their trust. Air Animal cares deeply about the pets our clients entrust to our care. Pet Moving Made Easy®. It's our focus, our passion, our promise and our clients' peace of mind. Always has been – always will be," Robinette added.
About Air Animal
Air Animal has helped more than 55,000 families move their 110,000 furry, feathered and scaly pets around the globe since 1977. They welcome pet move authorizations and referrals from major corporations, relocation management agencies, household goods movers, veterinarians, families, U.S. military and government transferees. Get the best in animal care and transportation. Air Animal is an appointed and endorsed IATA air cargo sales agency working with all airlines that move animals. They are an Indirect Air Carrier cleared for tendering live animals to airlines by the U.S. Transportation Security Administration. See airanimal.com to learn more about Pet Moving Made Easy®.