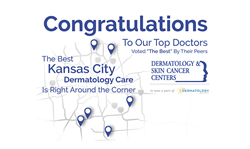 "We are proud to have so many of the physicians on our Kansas City team receive Top Doc honors," says Geoff Wayne, CEO of U.S. Dermatology Partners. "The honor is a tribute to their hard work, commitment to providing the best patient care and their passion for advances in their specialty."
KANSAS CITY, Mo. (PRWEB) February 12, 2019
Dermatology and Skin Cancer Centers, a leading dermatology practice whose expertise and exceptional quality help diagnose and treat skin cancer and other skin conditions, announces a total of six of their Board-Certified physicians have been honored with the prestigious Top Doc award by Castle Connolly. Since 1991, the renowned publishing company Castle Connolly has compiled the list of America's Top Doctors® each year to help guide consumers to America's top doctors and top hospitals. Castle Connolly's established nomination survey, research, screening, and selection process, under the direction of a medical doctor, involves hundreds of thousands of physicians as well as academic medical centers, specialty hospitals, and regional and community hospitals all across the nation.
Castle Connolly's physician-led team of researchers follows a rigorous screening process to select top doctors on both the national and regional levels. Every doctor on the list is nominated by peer doctors in their specific field.
The Top Doc designation was awarded to:
Glenn Goldstein, MD Dermatologist, Fellowship Trained Mohs Surgeon
Shawn Sabin, MD Dermatologist, Fellowship Trained Mohs Surgeon
Daniel Bortnick, MD Plastic and Reconstructive Surgeon
Elizabeth Spenceri, MD Dermatologist, Fellowship Trained Mohs Surgeon
Michael Haag, MD Dermatologist
Mark Fleishman, MD Dermatologist, Fellowship Trained Mohs Surgeon
Doctors do not and cannot pay to be selected and profiled as Castle Connolly Top Doctors. The Physicians selected for inclusion were included in the January issue of 435 magazine's "Top Doctors" and may also appear online at castleconnolly.com or in conjunction with other Castle Connolly Top Doctors databases online and/or in print.
"We are proud to have so many of the physicians on our Kansas City team receive Top Doc honors," says Geoff Wayne, CEO of U.S. Dermatology Partners. "The honor and designation is a tribute to their hard work, commitment to providing the best patient care and their passion for advances in their specialty."
About U.S. Dermatology Partners
As one of the largest physician-owned dermatology practices in the country, U.S. Dermatology Partners patients not only have access to general medical, surgical, and cosmetic skin treatment through its coordinated care network, but also benefit from the practice's strong dermatology subspecialty thought leaders and medical advisory board. To be the best partners to its patients, U.S. Dermatology Partners is fervently focused on providing the highest level of patient-first care, and its team, therefore, includes recognized national leaders in areas such as clinical research, psoriasis, and Mohs Surgery. To learn more, visit usdermatologypartners.com