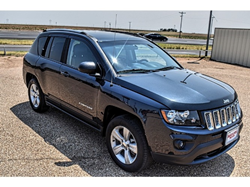 WOLFFORTH, Texas (PRWEB) September 18, 2020
Larger than sedans yet more fuel-efficient than most trucks, the SUV class possesses the versatility and all-around performance in a vehicle. At Matador Motors, six SUVs are currently available at their Wolfforth, TX location. Of the available options, there are two Jeep, two Ford and two other major brand SUVs available on top of their pre-owned vehicle inventory.
A brand that has consistently been known for all-around drivability, Jeep provides a unique experience regardless of terrain. Matador Motors has two Jeep SUV models in their inventory. One such model is a 2012 Jeep Patriot Sport that recently arrived at the dealership lot. The model has 101,361 miles driven and receives an estimated 23 miles per gallon in the city and 27 miles per gallon on the highway. Another Jeep model available is a blue 2015 Jeep Compass Latitude. Armed with four-wheel drive, the model has been driven for just 88,340 miles. It also has heated front leather seating and heated side mirrors.
Another major vehicle brand available at the dealership is Ford, which has a lengthy history in the truck and SUV categories. Two Ford SUV models are on the Matador Motors lot: a dark gray 2017 Ford Escape SE and a dark blue 2013 Ford Escape SEL. Receiving up to 28 highway miles per gallon, the 2017 Ford Escape SE model offers four-wheel drive and plenty of interior features. Meanwhile, the 2013 Ford Escape SEL also provides four-wheel drive and dual electronic automatic temperature control.
Other model SUVs are also available at Matador Motors. With just 109,588 miles on it, a black 2012 GMC Yukon XL model could be had. As the largest SUV model currently in the dealership's inventory, it possesses front-wheel drive, dual-zone climate control, a rear-view camera and third-row seating. A red 2008 Dodge Nitro SXT can also be had at the dealership's location. It possesses four-wheel drive and has a combined estimated fuel economy of 20 miles per gallon.
Those interested in any SUV model listed above are welcomed to contact Matador Motors. The dealership can be found at 214 E Highway 62/82 in Wolfforth, TX, online at https://www.matadormotors.com/ or over the phone at 806 833-7300.