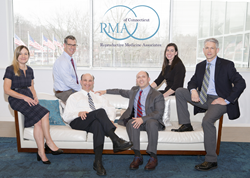 NORWALK, Conn. (PRWEB) February 03, 2021
RMA of Connecticut, a leading fertility practice whose exceptional quality and care helps couples and individuals grow their family, has announced that six of their Board-Certified reproductive endocrinologists have been honored with the prestigious Top Doc award by Castle Connolly. Since 1991, the renowned publishing company Castle Connolly has compiled the list of America's Top Doctors® each year. Every doctor on the list is nominated by peer doctors in their specific field and assessed by a physician-led research team.
The Top Doc designation was awarded to:
Mark Leondires, MD
Spencer Richlin, MD
Josh Hurwitz, MD
Cynthia Murdock, MD
Shaun Williams, MD
Ilana Ressler. MD
Top Docs are rigorously selected from among the total population of 700,100 physicians (including the 1,269 board-certified reproductive endocrinologists) in practice in the United States. Castle Connolly's research methodology is designed to identify doctors who will achieve the best possible health outcomes. For a reproductive endocrinologist, that translates to successful fertility treatment cycles (IUI and IVF), resulting in pregnancies and babies. The RMA of Connecticut physicians are at the top of their field and have the most up-to-date knowledge and skills in the field of Reproductive Endocrinology, the medical specialty dedicated to fertility treatment.
"Our doctors strive to provide the highest quality patient care in a compassionate, supportive way," says Robin Mangieri, CEO, RMA of Connecticut. "This distinction of Top Doc is a testament to that, and we are so proud of having received the honor over the span of several years now. It's clear our physicians work incredibly hard to offer patients personalized, all-encompassing care, and to be recognized with this distinction, as voted on by their physician-peers, is a humbling affirmation of this goal."
For more information on the Tops Docs designation, please visit the RMA of Connecticut Learning Center.
About Reproductive Medicine Associates of Connecticut (RMA of Connecticut)
RMA of Connecticut is a leader in fertility care, specializing in a range of infertility treatments. Our assisted reproductive technologies (ART) include intrauterine insemination (IUI), in-vitro fertilization (IVF) and pre-implantation genetic testing (PGT). RMA of Connecticut is Fairfield County's largest fertility clinic and egg donation center. Through RMA of Connecticut's Integrated Fertility and Wellness Center, we offer nutrition counseling, individual and couples psychological counseling, acupuncture and yoga, as well as financing and support services for our patients going through infertility treatment.
Our internationally recognized Gay Parents To Be® program at RMA of Connecticut specializes in LGBTQ family building. For the last four years, RMA of Connecticut has been recognized as a Leader in Healthcare Equality by the Human Rights Campaign.
The RMA of Connecticut team includes lead physicians Drs. Mark P. Leondires, Spencer S. Richlin, Joshua M. Hurwitz, Cynthia M. Murdock, Shaun C. Williams, as well as fertility specialist, Dr. Ilana B. Ressler and Dr. Laura Meyer. All seven physicians are Board-Certified Reproductive Endocrinologists and are members of the American Society for Reproductive Medicine (ASRM). Our team of doctors are named as Castle Connolly "Top Doctors" and are members of the Society for Assisted Reproductive Technology (SART). RMA of Connecticut's IVF laboratory is accredited by the College of American Pathologists (CAP), and CLIA. Other accreditations include the Accreditation Association for Ambulatory Health Care (AAAHC). RMA of Connecticut has offices in Danbury, Norwalk, Stamford, Trumbull and Poughkeepsie, New York. For more information visit http://www.RMACT.com or find us on Facebook.