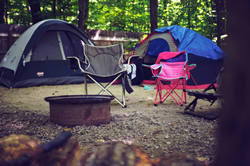 ARCOLA, Ill. (PRWEB) May 29, 2020
As stay-at-home orders begin to relax across the U.S., many Americans are starting to think about traveling again. However, many travel experts believe that travel will be closer to home initially and that people will do more driving tourism than flying. As RV and Camper owners prepare for the upcoming season, The Libman Company, a leading brand of household and commercial cleaning tools, offers some tips to keep your surroundings clean.
1. Set up a DIY Dish Sink
It's difficult to find a sink with running water to wash your dishes at campsites and picnic areas but hygiene is more important now than ever. To make your own sink, set up a five-gallon jug with a spigot on the edge of a picnic table. Beneath, place a bucket. Then run the water from the spigot and scrub your dishes with dish soap and an Libman All-Purpose Scrubbing Dish Wand that dispenses soap in the handle.
2. Clean your Cast Iron
While the cookware is still warm (but not hot), rinse the pan with warm water. Then use a hardy scrub brush such as the Libman Big Job Kitchen Brush to remove any bits of food and grease. Pat dry with a towel and let it finish air drying. If the finish looks shiny and black, you're done. Just remember the #1 rule of cast iron: never, ever use soap!
3. Bag It Up
Be sure to bring lots of trash bags, grocery bags, and large resealable baggies. These will come in handy for everything from storing leftover food to laundry sorting to storing a wet swimsuit.
4. Deep Clean Your Cooler
Mix a small amount of baking soda and water together to form a paste. Let the paste sit for 3-5 minutes. Then use a brush to scrub the interior and exterior of the cooler. Pour a small amount of vinegar inside the cooler until the paste bubbles. Drain the cooler through the spout or tip over. Rinse with cold water, drain again, and wipe dry.
5. Dry Out Your Tent
Avoid mold and mildew build up on your tent. Mix together 1 cup of lemon juice, 1 cup of salt, and 1 gallon of warm water. Use the Libman Big Scrub Brush and scrub with the mixture. Leave the tent out to dry completely.
6. De-Fuzz Your Window Screens
During the summer, Cottonwood and pollen seem to be everywhere. Instead of washing your RV or camper window screens, you can conveniently and easily use a lint roller. Just run it over the screens for quick pick up, tear, and you're done.
For more information about Libman and its line of products, visit http://www.libman.com