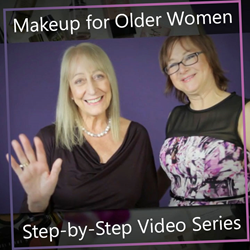 One of the biggest stereotypes about older women is that they no longer care about how they look. Our Sixty and Me makeup tutorial videos focus on positive aging to help women look and feel their best at any age.
Zug, Switzerland (PRWEB) May 06, 2014
Sixty and Me is challenging the stereotype that older women no longer care about how they look by teaming up with celebrity makeup artist, Ariane Poole, to release a series of how-to videos, designed just for older women. The video series is one of the only comprehensive video resources to provide specific makeup advice for this important and fast growing demographic.
The company is offering free and paid tutorial videos for women who want to enhance their look and, more importantly, feel their best. The free makeup videos cover a dozen topics, including how to deal with age spots, choosing eye makeup and other specific makeup tips for older women. The company has also launched an exclusive step-by-step makeup for older women video series, which is available for $19.
The free video makeup video series covers the following topics:

Makeup Tips for Older Women: Simple Techniques for Better Makeup Application
How to Get Rid of Age Spots - Can BB Creams and Makeup Help Aging Skin?
6 Makeup Tips for Older Women
Long-Lasting Eye Makeup for Older Women: Give Your Eyes that Special Sparkle
Makeup for Rosacea that Takes the Redness Away
Makeup for Mature Skin: A 5-Minute Makeover
Evening Makeup Tips for Older Women: A 3-Minute Makeover
Softening Deep Wrinkles and Age Spots with CC Creams
Makeup Tips for Older Women: How to Choose a Lipstick Color
Simple Makeup for Women Over 60: A Makeover with a Focus on Shaping Brows
How to Choose Makeup for Older Women: Questions to Ask At the Makeup Counter
Makeup for Mature Skin that Highlights Your Natural Inner Glow
The paid makeup video series covers the following topics:

Step 1: Primer – Importance of Using a Face Primer on Older Skin
Step 2: Foundation – New Lightweight Formulations that Will Make Your Skin Glow
Step 3: Concealer – The Magic of Concealer and a Secret Application Technique
Step 4: Brows – How to Shape, Color and Brush Your Way to Perfect Brows
Step 5: Cheeks – Color Selection and Application Techniques to Make You Shine
Step 6: Eyes – Secrets for How to Apply Eye Shadow on Older Eyes
Step 7: Lips – How to Make Your Lips Look Naturally Plump and Beautiful
Sixty and Me LLC, based in Switzerland, provides content, products and services to improve the lives of women over 60. On its website, the company provides articles and videos on a number of topics, including senior travel, women's health, yoga for seniors and makeup for older women. For more information, please visit http://sixtyandme.com.