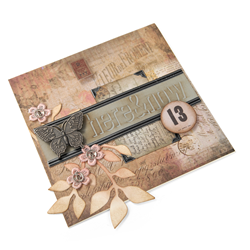 Lake Forest, Calif. (PRWEB) May 06, 2014
Adding further artistic relevance to the crafts market, Tim Holtz® has expanded his Sizzix® Alterations™ die cutting and embossing line with his newest product assortment.
Featuring a new concept in embossing, ShadowPress™ Debossing Folders create a visual debossed sentiment, mimicking the look of letterpress designs on cardstock, metallic foil, paper or vellum. Two sets of six A2 border folders, each measuring 5 3/4" x 1 1/2" x 1/8", enhance cards, mixed media projects, tags and more with words such as "wonderful", "good times", "here & now" and "note2self." The size of the folders allows crafters to place the sentiments vertically or horizontally on their projects, while using inks, markers or other color tools to fill in the drop shadows for bolder impressions.
"Tim continues to revolutionize the crafts market with innovative products like ShadowPress Debossing Folders that expand crafters' creative options," said Denzil Quick, Director of Product Development for Sizzix.
Among the other noteworthy offerings for Tim's motorized Vagabond™ Machine for Sizzix are two Framelits™ die sets with coordinating rubber stamps to create circus and birthday elements; one versatile Framelits™ 8 pack die set for the ultimate tag enthusiast; three Sizzlits® Decorative Strips that die cut one new edgy alphabet; tattered miniature banners and a striking border of birds in flight; and three steel-rule Bigz™ dies with arrow, door and prize ribbon designs.
Armor Shield and Big Ticket Movers & Shapers™ Base Dies work seamlessly with moveable magnetic Movers & Shapers Insert Dies to customize mini Eiffel Towers, shields, trophies and prize ribbon designs from an assortment of material including cardstock, chipboard and grungeboard™ for endless possibilities. Completing the collection are Arrows & Boardwalk and Drapery & Woodgrain Texture Fades™ Embossing Folders Sets that incorporate stylish backgrounds into any mixed media project.
The May collection of Tim Holtz Alterations products is now available in local craft boutiques and major retail craft chains around the country. For more information, visit http://www.Sizzix.com/home.
About Alterations
The Tim Holtz Alterations line of products is a creative assortment that brings together many mixed-media dies and embossing products for countless creative applications with the motorized Sizzix Vagabond Machine. Each element was specifically designed to work with Tim's other products to inspire paper crafters and mixed-media artists to discover their true creativity.
About Tim Holtz
Tim Holtz is the Creative Director for Ranger Industries, one of the leading manufacturers of innovative inks, paints and embossing products. Tim plays an integral part in the development and design of cutting-edge papercrafting products. Tim has teamed up with various key companies like Advantus, Tonic Studios, Sizzix, Stampers Anonymous and Core'dinations to bring unique products that work hand in hand. Learn more about Tim and connect to video tutorials and his blog at TimHoltz.com.
About Sizzix
Launched in 2001, Sizzix is a division of Ellison Educational Equipment Inc., the market pioneer and leader of die cutting machines and accessories. Through its portfolio of die cutting machines and die cutting products, Sizzix leverages Ellison's 37 years of proven manufacturing and technology heritage to empower creativity among its customer base with new and innovative products. Sizzix is a recognized global brand that can be found in over 100 countries and in major and specialty retailers. For more information on Sizzix and its line of craft-inspiring products, please visit http://www.Sizzix.com/home.